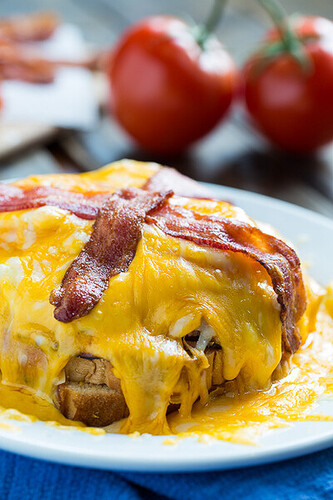 Cream Gravy
1 stick butter
1 1/4 cups all-purpose flour
4 cups whole milk
1 1/2 tablespoons chicken base
Sandwich
8 slices bread
12 ounces sliced turkey breast
12 ounces sliced ham
8 thin slices tomato
2 cups shredded sharp Cheddar cheese
1/2 cup grated Parmesan
8 slices bacon, cooked
To make cream gravy, melt butter in a medium saucepan. Stir in flour and cook for 1 minute. Gradually whisk in milk. Whisk in chicken base. Bring to a simmer and cook 2-3 minutes. Keep warm.
Preheat oven to 350 degrees. Toast all 8 slices of bread and cut in half diagonally.
Use an oven-safe plate to assemble each sandwich. If you do not have oven-safe plates, use a baking sheet or cake pan. Place triangle slices of bread on the plate, using 4 triangles per serving. You can overlap them or arrange them with the corners towards the center of the plate so that they form a square.
Warm the turkey and ham by microwaving briefly. Place 1/4 of the turkey and ham on top of the bread.
Ladle with cream gravy. Place 2 tomato slices on top of gravy and cover with cheddar and parmesan cheese.
Crisscross 2 slices of bacon on top. Place in oven until cheese is completely melted.
Repeat for remaining sandwiches.