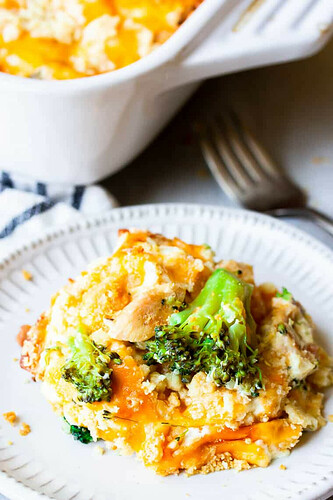 4 cups chicken breast, cooked and cubed
16 ounces frozen broccoli florets, steamed and drained
½ cup mayonnaise
¼ cup sour cream
2 tablespoons butter
½ tablespoon xanthan gum
2 cups chicken stock
1 teaspoon onion powder
½ teaspoon garlic powder
½ teaspoon salt
½ teaspoon pepper
¼ cup grated parmesan cheese
1-ounce pork rinds, ground
½ cup shredded cheddar cheese
Preheat the oven to 375F and lightly grease a casserole dish.
In a large skillet or cast-iron pan melt the butter over medium heat.
Whisk in the xanthan gum and cook, continually stirring, until the butter turns light brown. Cook for about 2 minutes but be careful not to burn.
Whisk in the chicken broth and bring to a simmer.
Stir in the onion powder, garlic powder, salt, and pepper. Cook until the mixture thickens, about 5 minutes.
Remove from the heat and allow to cool slightly.
In a large bowl combine the cubed chicken breast and drained broccoli.
Add the mayonnaise, sour cream and chicken stock mixture. Stir well to combine.
Transfer to the casserole dish.
In a small bowl combine the ground pork rinds, parmesan cheese, and shredded cheddar.
Sprinkle evenly over the top of the casserole.
Bake in the oven for 25-30 minutes until bubbly and golden brown.