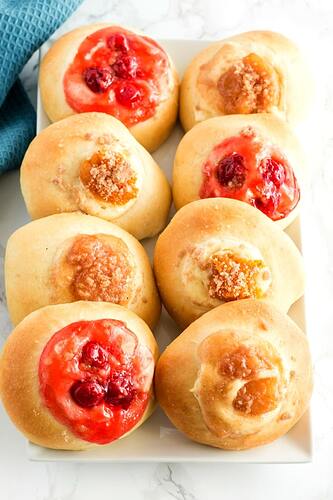 Pastry:
¼ ounce (1 packedry yeast
1 cup whole milk, lukewarm (110 to 115 degrees)
¼ cup granulated sugar
3 cups all-purpose flour, divided plus more for kneading
12 tablespoons unsalted butter, divided (1 1/2 sticks)
2 large eggs
1 teaspoon salt
Vegetable oil as needed
Crumble topping (Posypka):
2 tablespoons all-purpose flour
1 tablespoon unsalted butter
2 tablespoons granulated sugar
1/8 teaspoon ground cinnamon
Your choice of fillings:
Cream cheese:
8 ounces cream cheese softened
¼ cup granulated sugar
3 tablespoons all-purpose flour
1 large egg yolk
½ teaspoon finely grated lemon zest
Apricot:
1 cup dried apricots
1/2 cup orange juice
1/4 teaspoon orange zest
1/4 teaspoon ground cinnamon
2 tablespoons granulated sugar
Apple:
1 (15-ounces) can apple pie filling
Cherry:
1 (15-ounces) can cherry pie filling
Pastry:
Combine the yeast, warm milk and sugar in a large mixing bowl. Let the mixture stand for 5 to 10 minutes. Add 1 cup of flour and mix well. Cover the bowl with a kitchen towel and let rise for about 20 minutes or until doubled in size.
In another bowl, melt 8 tablespoons (1 stick) of the butter. Let the melted butter cool very briefly then whisk in the eggs and salt. Add the egg mixture to the ?our mixture and blend. Slowly add the remaining 2 cups of the ?our. The dough will be moist and soft.
Turn the dough on a floured surface and knead for about 8 to 10 minutes. Add extra flour as needed to make a soft workable dough. Grease a bowl with some oil. Place the dough in the bowl, cover and let it rise for about 1 hour or until doubled in size.
In the meantime, make the filling and the topping.
Topping (Posypka):
In a medium bowl, combine the flour, sugar, butter and cinnamon. Using your fingers, crumble the mixture until it resembles bread crumbs. Set aside.
Assemble And Bake:
After the dough has risen, remove it from the bowl and onto a lightly floured surface. Punch it down and divide it evenly into 12 pieces. Roll each piece into a ball and place them on an oiled baking sheet leaving several inches in between each dough ball. Flatten each ball slightly so it is about 3 inches in diameter. Cover and let rise for 30 minutes.
Preheat the oven to 375 degrees.
With your finger, gently make an indentation in the center of each dough ball, being careful not to flatten it too much. Fill each one with 1 tablespoon of filling and sprinkle it with the topping. Bake for about 12 to 15 minutes or until risen and pale gold.
While the kolaches are baking, melt the remaining 4 tablespoons of butter. Remove the kolaches from the oven and brush them with melted butter. Transfer them to a cooling rack. Serve warm or at room temperature. They are best when eaten the same day they are made.
Cream Cheese Filling:
Using an electric mixer, beat together the cream cheese and sugar until fluffy. Add the flour, egg yolk and lemon zest. Mix to blend and set aside.
Apricot Filling:
In a medium saucepan over medium-low heat, simmer the apricots, orange juice, orange zest and cinnamon until tender, about 30 minutes. Drain.
In a food processor, puree the apricots and sugar until smooth. The topping can be stored in the refrigerator, covered, for up to 3 days.
For Apple and Cherry Filling:
Simply pour your chosen filling into a bowl.
Notes
You can make cream cheese and fruit kolaches. Fill each kolache with about 1/2 tablespoon of cream cheese filling and 1/2 tablespoon of fruit filling. The ratio doesn't have to be exact.
Bake kolaches until golden brown on the top. The center of the dough should register about 180°F on an instant-read thermometer.