Today's Secret Recipe comes from La Conner Brewing Company in Washington state. La Conner serves a great selection of house made beers along with an eclectic menu of American eats. They opened in 1995 and have become a top choice destination for tourists and locals ever since.
A popular menu item at La Conner is the clam chowder. It has just the right amount of spice and is not overly thick. This chowder is very easy to make at home. For the best flavor, use fresh chopped clams if you can.
We also have a great selection of clam recipes on our forum: Go Here
Enjoy!
=-=-=-=-=-=-=-=-=-=-=-=-=-=-=-=-=-=-=-=-=-=-=-=
Lose Weight While Still Enjoying Your Favorite Restaurants
Try this Water Hack
=-=-=-=-=-=-=-=-=-=-=-=-=-=-=-=-=-=-=-=-=-=-=-=
=-=-=-=-=-=-=-=-=-=-=
New Secret Recipe
=-=-=-=-=-=-=-=-=-=-=
La Conner Brewing Co.'s Clam Chowder
Like this recipe? Get all our 5 Restaurant Secret Recipes Cookbooks – Go Here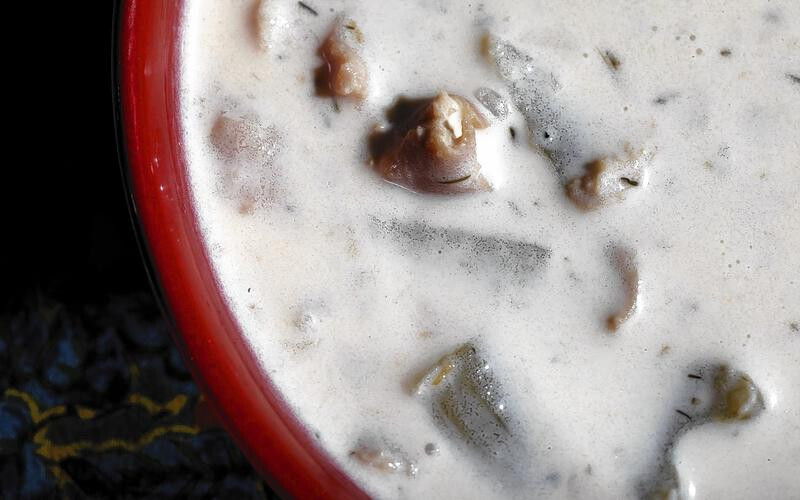 2 tablespoons butter
1/2 pound onions (about 1 onion), chopped
4 stalks celery, chopped
1 1/4 teaspoons garlic, minced
1 teaspoon dried thyme
3/4 teaspoon dried dill leaves
3 (6.4 ounce) cans chopped clams, drained and broth reserved
Up to 2 cups jarred or canned clam broth or juice
1 pound baking potatoes, peeled and chopped
1 1/4 teaspoons Worcestershire, or to taste
5 teaspoons lemon juice, or to taste
1 1/4 teaspoons Tabasco or other vinegar-based hot sauce
2 cups heavy cream
Salt and pepper
In a heavy-bottomed stock pot, melt the butter over medium-high heat. Add the onions and celery, and cook until the onions are translucent, 6 to 8 minutes. Stir in the garlic, thyme and dill, and cook until aromatic, about 1 minute.

Measure the reserved clam broth, adding additional jarred broth to bring the total volume to 21/2 cups. Add the broth to the pot, along with the potatoes; the broth should just cover all of the contents in the pot. Simmer, stirring occasionally, until the potatoes are tender, about 20 minutes. Stir in the clams, Worcestershire, lemon juice, hot sauce and heavy cream. Gently simmer for 5 minutes to marry the flavors. Taste and season with three-fourths teaspoon salt and one-half teaspoon pepper, or to taste. This makes about 2 quarts soup.
Serves 8
Source: LA Times
Get more secret restaurant recipes on our Secret Recipe Forum: Go Here
Until Next Time… Be Well!
Kind Regards,
RSN