Unleash the Sweet Tooth with Lavo's Secret Fried Oreo Zeppole Recipe!
Indulge in a delectable dessert served at one of New York City's hottest spots, Lavo. This Italian restaurant and nightclub is a must-visit for foodies and dessert lovers. Chef John LeLoach's refined cooking styles are showcased in Lavo's delicious menu.
But, the real star of the show? Their mouth-watering fried Oreo zeppole served with a creamy vanilla milk shake. Don't miss out on this tempting treat, get the secret recipe now!
Satisfy your cravings and treat yourself to a piece of Lavo's heavenly dessert. Get the recipe and bring a taste of New York City to your kitchen today!
Enjoy!
=-=-=-=-=-=-=-=-=-=
Secret Recipe Alert
=-=-=-=-=-=-=-=-=-=
Lavo Fried Oreo Zeppole & Vanilla Shake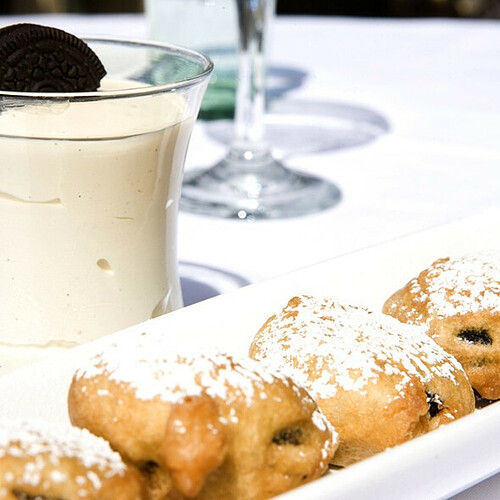 Lavo Fried Oreo Zeppole
20 oz all purpose flour
4 oz granulated sugar
1 tbsp baking powder
Dash of salt
3 whole eggs
3 cups of club soda
6 Oreo cookies
Mix all dry ingredients in mixing bowl. Whisk eggs and club soda together, then whisk into dry ingredients until well blended.

Chill in refrigerator.

Dip Oreo cookies into batter and fry until golden brown in 350 degree F oil. When cooked, place on paper towel.

Arrange on long narrow plate, sprinkle with confectionery sugar and chocolate syrup
Lavo Milk Shake
7 oz vanilla ice cream
1 oz milk
1 oz heavy cream
Put all ingredients in a high-speed blender and whip on high speed for 20 seconds. Pour into sundae cup and garnish with an Oreo cookie.
Serves 1
Source: Good Day NY
Until Next Time… Be Well!
RSN