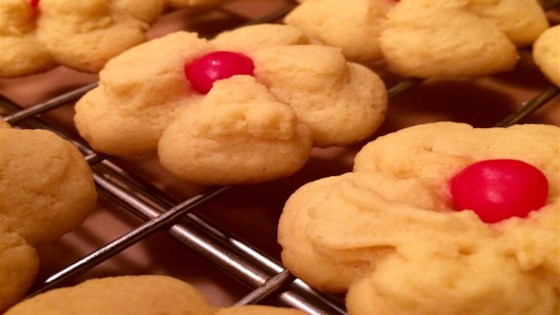 1/2 cup unsalted butter, softened
3 ounces cream cheese, softened
1/2 cup white sugar
1 egg yolk
1 tablespoon freshly grated lemon peel
1 teaspoon lemon extract
1 3/4 cups all-purpose flour
1/2 teaspoon salt
5 drops yellow food coloring (optional)
cinnamon candies
Preheat the oven to 350.
Line a baking sheet with parchment paper.
Beat butter and cream cheese together in a bowl.
Add sugar and beat until light and fluffy.
Add egg yolk, lemon peel, and lemon extract and beat well.
Sift flour and salt together in a bowl.
Add to the bowl with the butter mixture in 3 additions, mixing well after each.
Add food coloring and mix in thoroughly.
Press cookies 1 inch apart onto the prepared baking sheet using a cookie press fitted with a flower disc.
Press 1 red hot cinnamon candy into the center of each cookie.
Bake in the preheated oven until just starting to turn golden brown on the edges, 14 to 16 minutes; do not overbake.
Transfer cookies to a wire rack to cool completely.