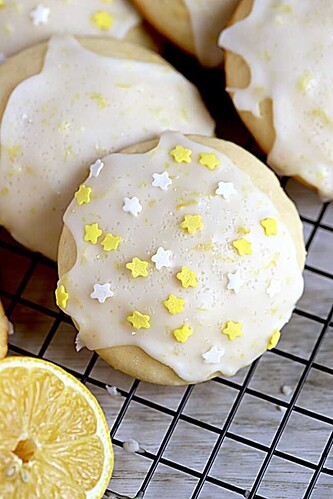 For the Ricotta Cookies:
2 1/2 cups all-purpose flour
1 teaspoon baking powder
1 teaspoon salt
1/2 cup unsalted butter, room temperature (1 stick)
2 cups sugar
2 eggs
15 ounces whole milk ricotta cheese
3 tablespoons lemon juice
1 lemon
For the Lemon Glaze:
1 1/2 cups powdered sugar
3 tablespoons lemon juice
1 teaspoon lemon zest
Optional:
Sparkling Sugar
Sprinkles
Preheat the oven to 375.
Combine the flour, baking powder, and salt in a medium bowl and set aside.
In an electric stand mixer fitted with a paddle or a handheld mixer with the whisk attachment, beat the butter and sugar together on high speed until creamy and fluffy, about 2 minutes. Add the eggs one at a time,and with the mixer on low beat until well combined. Scrape the size of the bowl as needed.
Add the ricotta cheese, lemon juice, and lemon zest and beat on low speed until combined. Gradually, stir in the dry ingredients and mix until just incorporated.
Line 2 baking sheets with parchment paper. Spoon the dough (about 2 tablespoons for each cookie) onto the baking sheets. Leave about 2 inches between each cookie.
Bake for 15 minutes, until slightly golden around the bottom edges. Remove from the oven and let the cookies rest on the baking sheet for 10 minutes before transferring to a wire rack to cool completely before glazing.
Glaze:
Combine the powdered sugar, lemon juice, and lemon zest in a small bowl and stir until smooth. Add extra lemon juice if needed until the glaze reaches the right consistency.
Spoon the lemon glaze over each cookie. Use a knife to gently spread if needed.
Sprinkle with decorating sugar and/or colored sprinkles. Let the glaze set for about 2 hours.
Notes
Chilling the dough for 20 minutes in the refrigerator prevents the cookies from getting too flat when baked. Although this is not a necessary step in the recipe, if you have time you can certainly do it.
You can make the cookie dough ahead of time and refrigerate it for up to 3 days. You can also freeze the dough for up to 2 to 3 months.