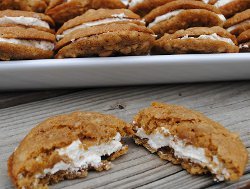 For the Cookie:
1 cup margarine (NOT butter) OR 1 cup butter flavored Crisco
¾ cup brown sugar
½ cup granulated sugar
1 Tbsp molasses
1 tsp vanilla extract
2 eggs
1½ cup flour
½ tsp salt
1 tsp baking soda
¼ tsp cinnamon
1½ cup quick oats
For the Filling:
2 tsp very hot water
¼ tsp salt
1½ (7oz) jars of Marshmallow Fluff
¾ cup butter flavor Crisco
2/3 cup powdered sugar
1 tsp vanilla
In large bowl, beat margarine, brown sugar, granulated sugar, molasses, vanilla and eggs. Add flour, salt, baking soda and cinnamon. Mix in the oats. Drop by ONE tablespoon onto a parchment lined cookie sheet. Bake 8-10 minutes in a 350 degree oven, until just starting to brown around the edges. DON'T OVERCOOK!
After cookies have cooled, combine hot water with salt and mix until salt is dissolved. In large bowl, beat marshmallow fluff with Crisco, powdered sugar and vanilla. Beat on high until fluffy. Add in salt water and mix until well combined. Spread filling on one cookie and press second cookie on top.