=-=-=-=-=-=-=-=-=-=-=-=-=-=-=-=-=-=-=-=-=-=-=-=-=-=
Your OMAD should be a Vegan Protein Smoothie
=-=-=-=-=-=-=-=-=-=-=-=-=-=-=-=-=-=-=-=-=-=-=-=-=-=
The Mediterranean Diet isn't a new fad or quick weight loss scheme, in fact it's been around for a very long time. It has taken science over 40 years to figure out what it is and why it works. The Mediterranean is a diverse region that is made up of 16 countries along the Mediterranean Sea. Countries like France, Spain, Italy and Greece have diverse and different cultures. While the foods are different, on a nutritionally level they share many similarities. They contain lots of fresh fruits and vegetables.
Scientists have discovered a strong relationship between adherence to the Mediterranean diet and a reduced risk of type 2 diabetes, several types of cancers, Alzheimer's disease, rheumatoid arthritis, and osteoarthritis. A 2018 review in The Journal of Nutrition found that epidemiologic studies and randomized clinical trials have shown that Mediterranean and vegetarian diets are linked with beneficial changes to the gut microbiome, such as increased production of short-chain fatty acids. These diets rich in plant foods, like the Mediterranean diet, can add as many as 13 years to a person's life if the pattern begins at a young age.
So, why not try some Mediterranean recipes for Vegans, Vegetarians and Pescatarians?
Greek Grilled Chicken With Spinach and Tomatoes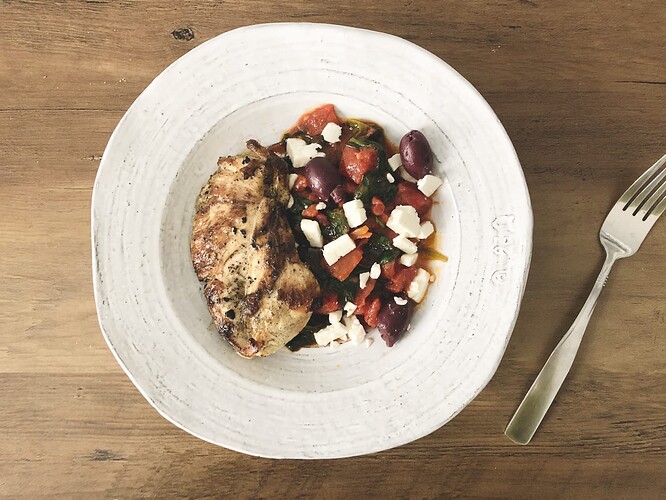 Serves 4
Ingredients
4 (6-oz) boneless, skinless chicken breasts
2 T olive oil, divided
1/4 tsp salt, divided
1/4 + 1/8 tsp pepper, divided
1 (14-oz) can fire roasted diced tomatoes, no salt added
1/4 cup pitted Kalamata olives
5 oz baby spinach
1/4 cup crumbled feta cheese
Directions
Season the chicken breasts with 1 T of the olive oil, 1/8 tsp of the salt, and 1/4 tsp of the pepper.

Using an outdoor grill or a grill pan, cook chicken for about 7 minutes on each side, until the thickest part of the chicken reads 165˚ F on a meat thermometer. Place cooked chicken on a clean dish and set aside.

Meanwhile, heat a large skillet over medium-low heat. Add the remaining 1 T of olive oil to coat the pan. Then add the diced tomatoes and olives and cook for about 3 minutes, stirring often. Add the spinach, 1/8 tsp salt, and 1/8 tsp pepper and continue cooking, stirring often with tongs, until the spinach is wilted, about 5 minutes.

Divide the spinach mixture into four servings, then top each serving with 1 grilled chicken breast and 1 T crumbled feta cheese.
Nutrient Analysis per serving
Calories: 350; Total fat: 16 g; Sodium: 530 mg; Total carbohydrate: 7 g; Dietary fiber: 2 g; Protein: 41 g
Mediterranean Recipe for Vegans
Everything Green Chickpea Salad
Serves 4
Ingredients
1 can chickpeas, drained and thoroughly rinsed
1/4 cup mint, finely chopped
2 T chives, finely chopped
2 scallions, finely chopped
Juice of 3 lemons
3 T extra-virgin olive oil
2 tsp dried oregano
Directions
In a large salad bowl or mixing bowl, combine all ingredients.

The salad can be served at room temperature or chilled. It will taste best when given a few hours or overnight to chill in the refrigerator to allow the flavors to meld.
Nutrient Analysis per serving
Calories: 200; Total fat: 12 g; Sat fat: 1.5 g; Sodium: 150 mg; Total carbohydrate: 19 g; Dietary fiber: 6 g; Protein: 6 g
Mediterranean Recipe for Vegetarians
Vegetable Frittata
Serves 4
Ingredients
3 whole eggs
3 egg whites
1/4 cup grated Parmigiano Reggiano cheese
2 T diced fresh tarragon (or 2 tsp dried)
Salt and freshly ground pepper, to taste
3 T extra-virgin olive oil, divided
1 onion, diced
1 zucchini, diced
1 red or orange bell pepper, diced
Directions
Combine the eggs, egg whites, cheese, tarragon, salt, and pepper in a large bowl and whisk to blend. Set aside while you prepare the vegetables.

Heat 1 T of the olive oil in a large, oven-safe skillet over medium-high heat. When hot, add in the diced vegetables and cook, stirring for 5 to 7 minutes, or until just tender, with golden brown edges. Season with a pinch of salt and pepper. Remove the vegetables and set aside in a bowl. Heat the broiler.

Wipe out the skillet with a paper towel and turn the heat down to medium low. Add the remaining 2 T of olive oil and swirl to coat the skillet.

When the skillet is hot, pour in the egg mixture and cook for about a minute, then gently spoon the vegetables over the eggs (do not mix them in). Continue cooking until the edges have set. Lift the frittata gently to see that the bottom has browned, about 5 minutes.

Put the skillet under the broiler for 2 minutes, or until the top is set and lightly browned. Watch carefully to prevent burning. Let the frittata cool for a few minutes. Then slide it onto a serving plate, cut into wedges, and serve.
Nutrient Analysis per serving
Calories: 260; Total fat: 20 g; Sat fat: 5 g; Sodium: 230 mg; Total carbohydrate: 9 g; Dietary fiber: 2 g; Protein: 14 g
Mediterranean Recipe for Pescatarians
Spicy Salmon
Serves 4
Ingredients:
4 cloves garlic, chopped
1/2 tsp sea salt
1 tsp crushed red pepper flakes
2 T extra-virgin olive oil
Juice of 1 lemon
4 salmon steaks, each about 4 oz
Directions
Crush the garlic with the salt in a mortar, or mash it with a fork in a small bowl. Add the pepper flakes, olive oil, and lemon juice and continue mashing to form a smooth paste.

Arrange the salmon in a baking dish and spread the marinade on top. Cover with plastic wrap and refrigerate for up to two hours.

Preheat the oven to 450° F. Uncover the fish and bake for about 20 minutes or until it flakes easily with a fork.
Nutrient Analysis per serving
Calories: 230; Total fat: 14 g; Sat fat: 2 g; Sodium: 340 mg; Total carbohydrate: 2 g; Dietary fiber: 0 g; Protein: 23 g
— Source: Recipes and photo courtesy of Oldways, oldwayspt.org
Until Next Time… Be Well!
Kind Regards,
RSN
=-=-=-=-=-=-=-=-=-=-=-=-=-=-=-=-=-=-=
Tired of Exercising and Dieting?

It's Time to Try BioPls Slim Pro
=-=-=-=-=-=-=-=-=-=-=-=-=-=-=-=-=-=-=