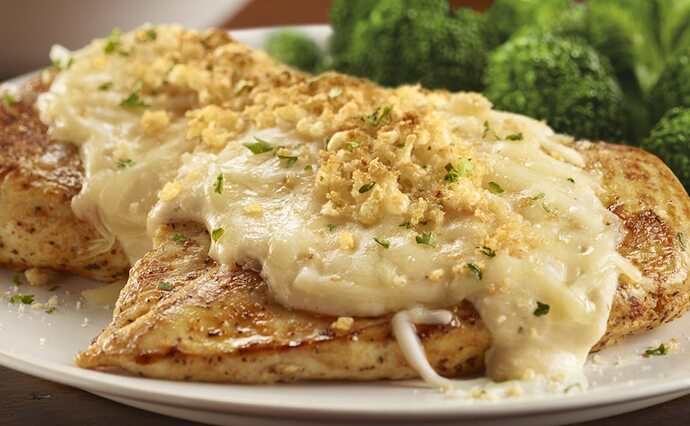 4 boneless, skinless chicken thighs, 1/2" thick (pounded or cut to thickness)
Marinade:
1/4 c. vegetable oil
1/4 c. ranch dressing
1 1/2 T. Worcestershire sauce
1/2 t. vinegar
1/2 t. lemon juice
1 1/2 t. minced garlic
1/4 teaspoon pepper
Ranch Spread:
1/4 cup grated Parmesan
1/4 cup ranch dressing
Parmesan Crumb Topping:
1/2 cup panko bread crumbs
1/4 teaspoons garlic powder
1/3 cup shredded Parmesan
2 tablespoons melted butter
1 cup shredded provolone
Combine ingredients for marinade and pour over chicken. Marinate in refrigerator for 2-3 hours or overnight.
Grill 12-15 minutes, until chicken is done. Set aside.
Ranch spread: mix 1/4 cup of grated Parmesan and 1/4 cup ranch dressing. Spread 1 T. onto each chicken breast.
Mix bread crumbs, garlic powder, shredded Parmesan and butter. The crumbs should be evenly moistened. Sprinkle over chicken spread.
Position rack 6-8" from broiler. Preheat broiler. Transfer cooked chicken to oven-safe casserole dish.
Place chicken under broiler and cook until cheese melts and crumb topping begins to turn light brown.
Serve immediately.