This Secret Recipe comes from Louro in New York City. At Louro they serve up Portuguese small plates and tasting menus. One of their sophisticated but simple salads features roasted multicolored heirloom carrots with a light glaze and served with a salty miso dressing. Serve this as a side dish or an appetizer.
You can find a fantastic collection of carrot dishes on our recipe forum: Go Here
Enjoy!
=-=-=-=-=-=-=-=-=-=-=-=-=-=-=-=-=-=-=-=-=-=
The Alpine Secret For Healthy Weight Loss.
=-=-=-=-=-=-=-=-=-=-=-=-=-=-=-=-=-=-=-=-=-=
=-=-=-=-=-=-=-=-=-=
New Secret Recipe
=-=-=-=-=-=-=-=-=-=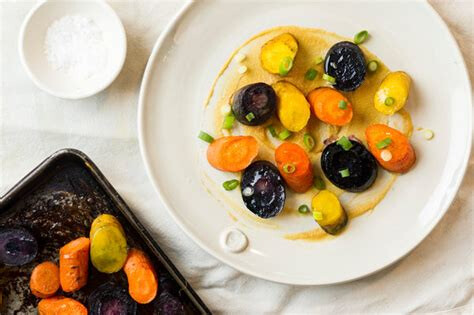 Louro's Roasted Heirloom Carrot Salad With Miso Dressing
Ingredients:
12 carrots (preferably 3 or 4 different colors), washed and trimmed
2 tablespoons olive oil, more for drizzling
3 teaspoons granulated sugar
Kosher salt and freshly cracked black pepper, to taste
½ cup of shiro (white) miso
2 teaspoons rice wine vinegar
2 teaspoons mirin
3 scallions, white and light green parts, thinly sliced
Instructions:
Heat oven to 350 degrees F.

Cut carrots into 2-inch diagonal pieces. If using different colors, keep carrots separate so the colors don't bleed into each other. Toss carrots with olive oil, 1 teaspoon sugar, salt and pepper. Lay carrots on a large baking sheet in one layer and roast until just tender but not mushy, 20 to 30 minutes. Let cool.

Meanwhile, place miso, vinegar, mirin and remaining 2 teaspoons sugar in a blender or food processor. Blend until smooth.

Smear dressing thinly on each plate and arrange carrots attractively on top. Drizzle with olive oil. Sprinkle with scallions and serve.
Serves 6-8
Have a comment or question about this recipe? Post it here
Source: NY Times
Get more secret restaurant recipes on our Secret Recipe Forum: Go Here
Like Copycat Recipes? Get our Secret Recipes Cookbook Here.
Until Next Time… Be Well!
Kind Regards,
RSN