Low Fat Cooking - Volume 1
Enjoy low fat recipes that are easy to prepare and absolutely delicious.
This NEW cookbook features over 100 low fat recipes for a lifetime of healthy eating.
Low Fat Cooking – Volume 1 is packed with great-tasting recipes from snacks to main dishes and more.
Discount Cookbook Club Members Get This Cookbook Free (password required):

(The cookbook club is a paid subscription that is separate from our free recipe forums)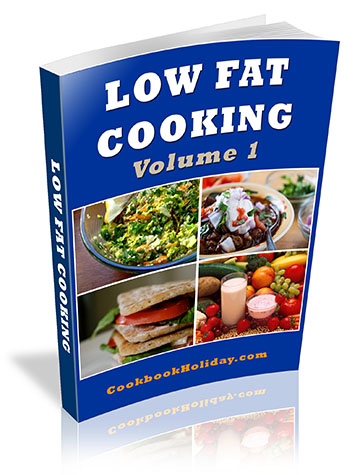 Here's a sample of the delicious recipes featured in this cookbook:
Baked Sea Bass
Baked Zucchini with Tomatoes
Banana Breakfast Shake
Butterfly Shrimp
Capri Salad
Carnitas
Chicken & Vegetable Soup
Chile-Spiced Red Snapper & Couscous Stew
Cod with Red Pepper Sauce
Cool Cucumber Salad
Crab Salad
Double Chocolate Chip Brownies
Eggplant Curry
Fillet of Sole with Crispy Ginger & Baby Bok Choy
Fruit Smoothies
Ginger & Orange Broccoli
Greek Style Stuffed Peppers
Grilled Lemon Chicken
Grilled Tuna Salad
Lentil Stew
Manhattan Clam Chowder
Meatball Brochetts
Mini Florentines
Oriental Chicken
Pan Seared Halibut
Parmesan Oven Fries
Pita Pizzas with Sun Dried Tomatoes
Roasted Yellow Pepper Soup with Basil Cream
Shrimp Creole
Spicy Scallops with Lime & Chili
Spinach Salad
Thai Chicken Salad
Turkey Chili Burritos
Vegetable Chili
Whole Wheat Blueberry Waffles
and MANY MORE LOW FAT RECIPES!

- Non Members Can Sign Up Here
- Or To Order This Title Separately Click Here