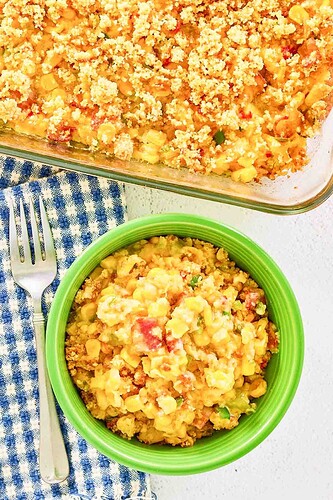 1 package cornbread muffin mix
1/4 pound bacon chopped into 1/2-inch pieces
1/3 cup diced onion
1/3 cup diced celery
1/3 cup diced green bell pepper
4 ounces plus 2 tablespoons butter divided use
1/4 cup milk
1 13.5-ounce can cream style corn
1 13.5-ounce can whole kernel corn drained
2 tablespoons finely chopped fresh jalapeños
2 tablespoons finely chopped jarred pimentos
1 teaspoon salt
1 tablespoon sugar
Prepare the cornbread according to the package directions. When the cornbread has cooled, crumble it into pieces to yield about 2 cups of crumbled cornbread.
Preheat the oven to 350°F.
In a large skillet over medium heat, cook the bacon until crisp.
Add the onion, celery, and bell pepper and sauté for 2 minutes over low heat; set aside.
In a medium pan, melt 4 ounces of butter over low heat.
Add the milk, cream corn, whole kernel corn, jalapeños, pimentos, salt, and sugar and cook until heated through.
Add the sautéed bacon and vegetables and 1 cup of cornbread crumbs to the pan. Cook until heated through, stirring frequently.
Transfer the mixture to an 8×11-inch pan.
Moisten the remaining cornbread crumbs with the remaining butter and sprinkle them over the corn mixture.
Bake at 350°F until the crumbs are lightly browned.