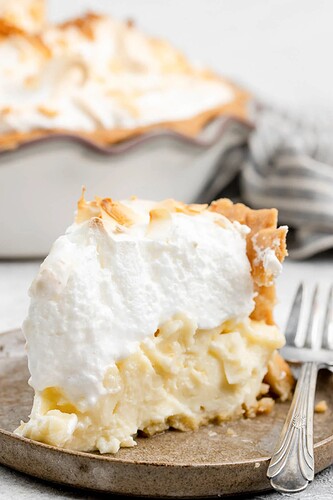 5 cups half-and-half
1/4 cup (1/2 stick) butter
1 cup sugar
3 extra large eggs
1/4 cup cornstarch
1 teaspoon vanilla extract
1/4 teaspoon salt
1 cup miniature marshmallows
1 and 1/4 cups flaked coconut, divided
2 baked 9-inch pie shells
MERINGUE:
1 and 1/4 cups egg Whites (from 8 to 9 extra large eggs)
1 teaspoon cream of tartar
1 and 1/2 cup sugar
For filling, combine half-and-half and butter in a saucepan. Bring just to boil over medium heat.
In a medium bowl, whisk together sugar, eggs, cornstarch, vanilla and salt until cornstarch is completely dissolved and mixture is well-blended. Gradually add to the mixture in saucepan, stirring constantly with a wire whisk. Cook, stirring constantly, about 1 minute or until thickened. Add marshmallows and 3/4 cup of the flaked coconut. Cook and stir until marshmallows melt and mixture is well-blended. Pour into pie shells. Refrigerate at least 2 hours.
Heat oven to 350 degrees.
For meringue, in large bowl, beat egg whites and cream of tartar until soft peaks form. Add sugar, a small amount at a time, beating constantly until stiff peaks form. Spread half the meringue over each pie to edge of crust. Sprinkle each with 1/4 cup of the remaining coconut on each pie.
Bake 12-15 minutes or until lightly browned. Refrigerate until served. If you don't manage to eat all of your pie in one sitting, be sure to store the remainder in the refrigerator.