Luce's Braised Chicken with Capers and Parsley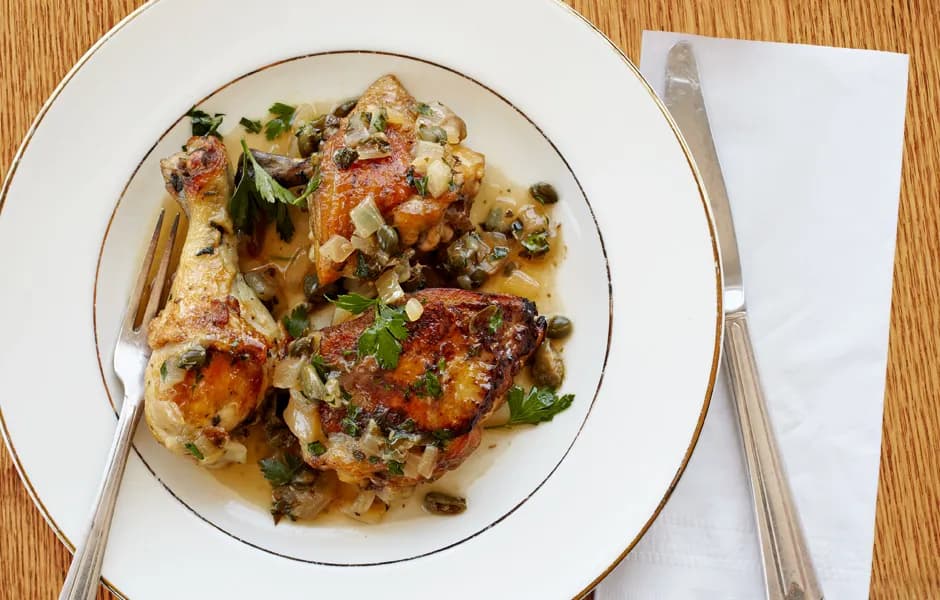 Like this recipe? Get our Secret Recipes
Cookbook Here
or Post Comments in our
Forum
Ingredients:
4 tablespoons olive oil, divided
1 large onion, minced (1 1/2 cups)
4 chicken legs, drumsticks and thighs separated (about 2 pounds)
Kosher salt
1/2 cup minced flat-leaf parsley plus more for garnish
1/3 cup salted capers, soaked well in several changes of water
2 cups low-salt chicken broth
1/3 cups white wine vinegar
Freshly ground black pepper
Directions:
Heat 2 Tbsp. oil in a large heavy skillet over medium heat. Add onion; cook, stirring often, until softened, about 8 minutes. Transfer onion to a bowl; wipe skillet clean.

Add 2 Tbsp. oil to skillet and increase heat to medium-high. Season chicken with salt. Add chicken to skillet and cook, turning once, until golden brown on both sides, 10-12 minutes. Transfer chicken to a plate.

Add reserved onion, 1/2 cup parsley, and capers to skillet; cook for 1 minute. Stir in broth and vinegar. Add chicken with any juices. Reduce heat to medium-low; cover and simmer until meat is tender and falling off the bone, about 1 1/4 hours.

Transfer chicken to a large platter. Season sauce in skillet with salt and pepper. Spoon over chicken; garnish with parsley.
Serves 4
Source: Bon Appetit
Get more secret restaurant recipes on our Secret Recipe Forum: Go Here
Enjoy!
Until Next Time… Be Well!
Kind Regards,
RSN