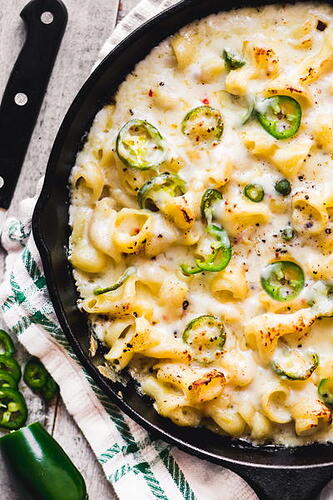 1/2 pound large shape pasta
2 Tbsp unsalted butter
2 Tbsp flour
2 cups whole milk
1 pound Pepper Jack cheese, shredded
1-2 jalapenos, thinly sliced
salt and fresh cracked black pepper to taste
Set oven to 350F
Set aside 1/2 cup or so of the shredded cheese for topping.
Cook the pasta in plenty of salted water just until al dente. I usually cook pasta a good 2 or 3 minutes less than the package says. Drain and set aside.
Melt the butter in a large pan and add the flour. Cook over medium heat, stirring constantly, for a minute or so. Add the milk and stir or whisk until well combined. Cook, stirring constantly, until the mixture thickens. Remove from the heat and add the cheese, a little at a time, while stirring, until all the cheese has been incorporated and the sauce is smooth. Season with salt and pepper to taste.
Stir the cooked pasta into the sauce, along with the sliced jalapeños and mix well. Top with the reserved cheese.
Bake for about 30-40 minutes until browned and bubbling throughout. You can run it under the broiler for a minute or two at the end to brown it further. Serve right away with a green salad.
Notes
Add a nice buttery crumb crust if you like.
Toast fresh made bread crumbs with melted butter, salt, and pepper, and toast them in a skillet until crisp.
Scatter across the top of the macaroni before baking.
Add crisp crumbled bacon.
Make more spicy by grating Monterey Jack and blend it with finely minced jalapeños.