Magic Black Bottom Pie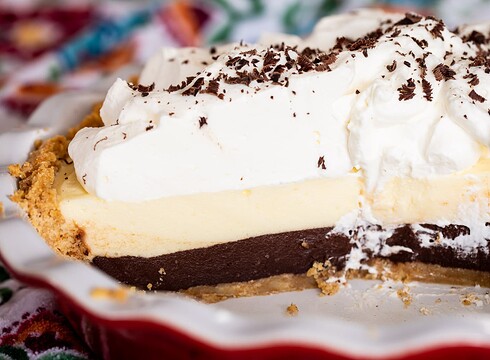 Ingredients:
Ingredients
Pastry
Filling
Pastry Cream Base
2C Half and Half
½C Sugar
½C Cornstarch
4 Yolks
2Tbls Butter
Chocolate Layer
6oz Bittersweet Chocolate, Chopped
Half the Pastry Cream Base
Rum Chiffon
Half Pastry Cream Base
2Tbls Rum
2tsp Vanilla
1½tsp Gelatin
¼C Cold Water
80g Egg Whites
80g Sugar
¼tsp Cream of Tartar
Topping
Cream Chantilly
1C Heavy Cream
¼C Powdered Sugar
½tsp Vanilla
Directions
Make/buy a 9" deep dish graham or cookie crust.
Make pastry cream.
Pour half the hot pastry cream over chopped chocolate. Stir till melted.
Pour the chocolate pastry cream into graham cracker crust. Cover with film wrap and chill for 30-45 minutes till set.
While the chocolate layer chills, move on to the rum chiffon.
Bloom gelatin in cold water. When bloomed, incorporate rum and vanilla into gelatin. Warm over boiling water till the gelatin melts, then mix into the warm pastry cream.
Cover with film wrap and let cool.
Once the chocolate layer is set, make a swiss meringue with the egg whites, sugar, and cream of tartar. Fold into rum pastry cream.
Spread on chocolate layer, cover with film wrap, and chill till seat.
When ready to serve, whip cream, powdered sugar, and vanilla till medium peaks, spread on pie, garnish with shaved chocolate.
Eat!
Source: Year of the Pie
Enjoy!

RSN