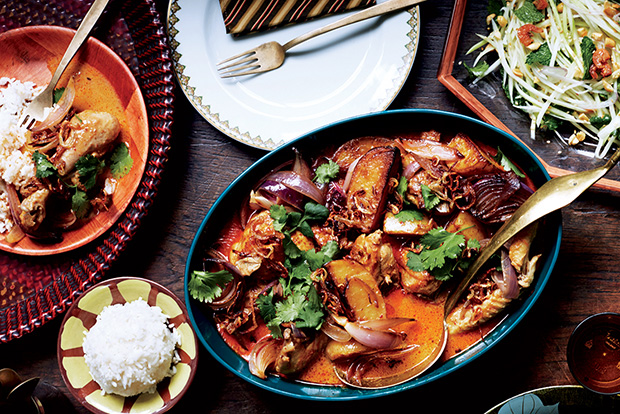 1 tablespoon vegetable oil
1 4–4 1/2-pound chicken, cut into 10 pieces
Kosher salt
4 medium Yukon Gold potatoes (about 1 1/2 pounds), quartered
2 medium red onions, cut into wedges
3/4 cup prepared massaman curry paste
12 ounces Belgian-style wheat beer
4 13.5-ounce cans unsweetened coconut milk
2 cups low-sodium chicken broth
1/2 cup fish sauce
1/4 cup fresh lime juice
1 tablespoon palm or light brown sugar
1 teaspoon red chile powder
Freshly ground black pepper
Cilantro sprigs, fried shallots, and cooked rice (for serving)
Heat oil in a large heavy pot over medium-high heat. Season chicken with salt and cook in batches, skin side down, until golden brown (do not turn), 8–10 minutes; transfer to a plate.
Cook potatoes in same pot, turning occasionally, until brown, 8–10 minutes; transfer to another plate. Cook onions in pot, stirring occasionally, until golden brown, 5–8 minutes; transfer to plate with potatoes.
Add curry paste to pot and cook, stirring, until fragrant, about 4 minutes. Add beer. Bring to a boil, reduce heat, and simmer until reduced by half, 5–7 minutes. Add chicken, coconut milk, and broth. Bring to a boil, reduce heat, and simmer until chicken is very tender, 1–1 1/2 hours.
Return potatoes and onions to pot and cook until potatoes are soft, about 30 minutes. Remove from heat and mix in fish sauce, lime juice, palm sugar, and chile powder; season with salt and pepper. Top with cilantro and shallots. Serve with rice.
DO AHEAD: Chicken can be made 2 days ahead. Cover and chill.
Epicurious