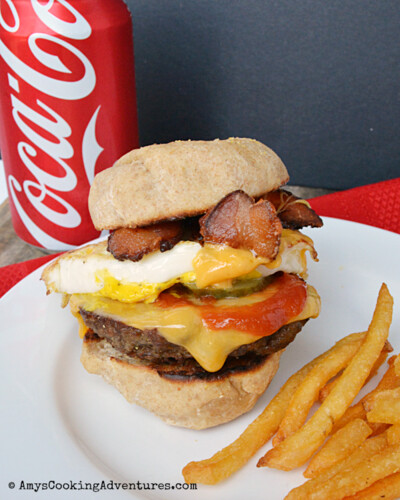 Burgers
1 lb ground beef
½ cup breadcrumbs
1 egg
Salt & pepper
¼ tsp onion powder
Dash of garlic powder
To Finish
½ lb thick cut bacon
6 large eggs
6 slices cheddar cheese
6 English muffins, split
3 pickles, sliced thin
Ketchup & mustard
Preheat the outdoor grill (or skillet). Use hands to mix together the beef, breadcrumbs, egg, salt, pepper, onion powder, & garlic powder. Separate into 6 patties, leaving a small divot in the center for even cooking. Cook on the grill until well done.
Meanwhile, cook the bacon until crisp in a large skillet. Set aside on a paper towel lined plate to drain. Pour off most of the drippings. Crack each egg into a greased 4-inch metal biscuit or cookie cutter in the same skillet (optional – this gives the egg the classic EggMcMuffin look). Pop the yolk, season with pepper and cook until the cutter can be removed without the egg spreading. Flip and cook on the other side.
As the burgers and eggs finish cooking, place a half slice of cheese on top of each burger and egg patty to melt.
Place the English muffins cut side down in the skillet to toast.
Place a cheesy burger on the bottom half of each English muffin. Add ketchup, mustard, and pickles. Then, top with a cheesy egg, bacon, and the top of the English muffin.
Serves 6