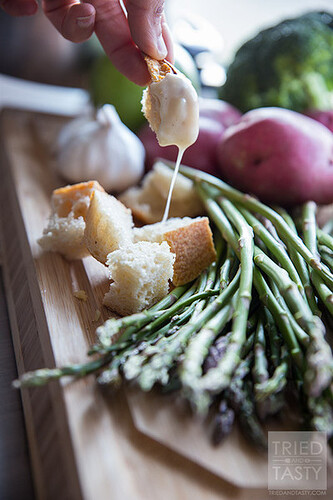 4 ounces dry white wine
2 or 3 cloves of garlic chopped
1/2 pound Emmenthaler cheese, grated
1/2 pound Gruyere cheese, grated
2 tablespoons all-purpose flour
1/4 cup fresh lemon juice
1 ounce cherry liqueur like Kirshwasser (optional)
In your fondue pot heat together dry white wine and garlic. In a large bowl combine cheeses and sprinkle 2 tablespoons of all-purpose flour over the cheese and mix together. Add lemon juice to white wine mixture. When the garlic becomes fragrant add 1/3 of the cheese to the fondue pot, and stir in cheese. When this cheese has melted add an additional 1/3 of the cheese and stir until melted. Add remaining amount of cheese. Stir and blend until the cheese has the texture of honey. Before serving add some fresh cracked black pepper and 1 ounce cherry-flavored liqueur like Kirshwasser (optional).
Serve with crusty bread, raw broccoli flowerettes, raw baby cut carrots, or anything else you might like to dip.