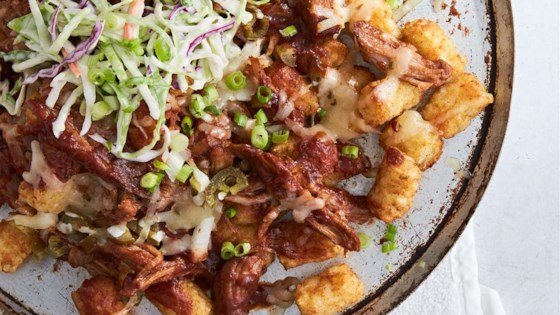 1 (28 ounce) package frozen Extra Crispy Tater Tots®
2 cups shredded pepper jack cheese
2 cups cooked pulled pork
1/2 cup chopped white onion
1/4 cup chopped pickled jalapeno peppers
1/2 cup barbeque sauce
1 cup prepared coleslaw
1 bunch green onions, sliced
Preheat oven to 425 degrees F (220 degrees C).
Arrange tater tots in a single layer on a baking sheet.
Bake in the preheated oven for 20 minutes.
Shake baking sheet and continue baking until potato nuggets are extra crispy, 20 to 24 minutes longer.
Remove baking sheet from oven and turn on oven's broiler.
Top potato nuggets with pepper jack cheese, pulled pork, onion, and jalapeno peppers. Drizzle barbecue sauce over totchos.
Broil in the preheated oven until cheese starts to bubble, 5 to 7 minutes.
Top totchos with coleslaw and green onions.