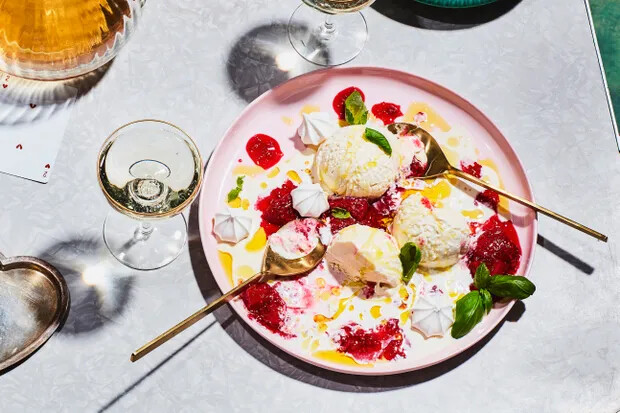 1/2 cup frozen strawberries
1/3 cup frozen raspberries
3 Tbsp. dark brown sugar
3 Tbsp. Chambord liqueur
1/2 tsp. freshly ground black pepper
Pinch of kosher salt
6–8 small meringue cookies
3 large scoops vanilla ice cream (from 1 pint)
Extra-virgin olive oil, flaky sea salt, and basil leaves (for serving)
Cook strawberries, raspberries, brown sugar, liqueur, pepper, and kosher salt in a small pot over medium heat, stirring occasionally, until sauce is thickened, about 8 minutes. Let cool to room temperature.
Arrange cookies and ice cream scoops on a plate. Spoon berry sauce over, then top with oil, sea salt, and basil.
Do Ahead: Sauce can be made 1 day ahead. Transfer to an airtight container and chill. Let come to room temperature before serving.