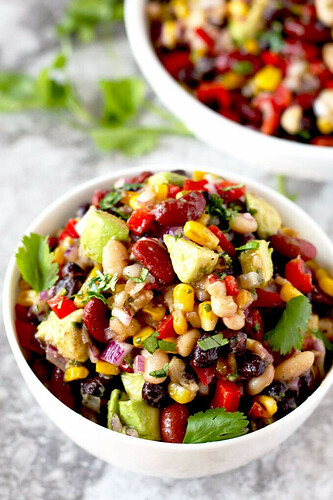 1 12 ounces bag frozen corn or 2 to 3 ears of fresh corn
1 (15 ounces) can black beans, drained and rinsed
1 (15 ounces) can kidney beans, drained and rinsed (I used light red)
1 (15 ounces) can great northern beans, drained and rinsed (you can use canellini beans as well)
1 red bell pepper, diced
1 small red onion, diced
1/4 cup fresh cilantro, chopped
1-2 avocado, chopped
1 jalapeño or serrano chili, seeded and diced (optional)
For the Citrus Vinaigrette
1/2 cup olive oil
2 tablespoons lime juice, freshly squeezed
1/4 cup red wine vinegar
1 tablespoon lemon juice
1 tablespoon honey
1 garlic clove, minced
1/2 teaspoon ground cumin
1 tablespoon salt
1/2 teaspoon ground black pepper
1/4 teaspoon ancho chili powder (or any other chili powder)
extra chopped cilantro (optional)
To prepare the corn
In a Cast Iron Skillet or Regular Skillet (frozen corn)
Heat a 10 inch cast iron skillet over medium hot heat. When hot, add the corn kernels in a single layer and cook for about 3-4 minutes. Stir and cook until the corn is charred. You may have to repeat this process until all the corn is nicely charred.
On a grill (on the cob)
Shuck and clean the corn. You don't have to worry about removing every piece of silk as it will burn on the grill.
Heat your grill to medium hot. Place the corn directly on the grill. Grill turning occasionally for about 10 minutes or until charred and cooked through.
To Make the Citrus Vinaigrette
In a small bowl whisk together the oil, lime juice, red wine vinegar, lemon juice, honey, minced garlic, ground cumin, salt, pepper and chili powder and cilantro.
You can also put all the ingredients in a lidded jar and shake!
Assemble the Salad
In a large bowl combine the corn, beans, bell pepper, onions and jalapeño (if using).
Pour the Vinaigrette over the beans and vegetables. Mix well to combine.
At this point, you can serve it (just fold in the chopped avocado gently), or you can refrigerate for a few hours. The flavors will develop as the salad sits. Just add the avocado before serving.
Taste and adjust seasoning. Garnish with extra chopped cilantro, if desired.