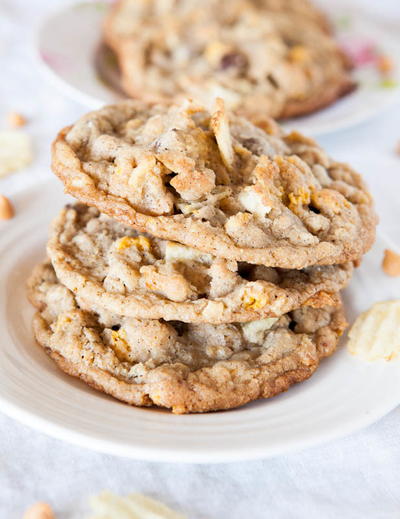 1/2 cup butter, softened
1/2 cup granulated (white) sugar
1/3 cup light brown sugar, tightly packed
1 tablespoon light corn syrup
1 egg
1/4 teaspoon vanilla extract
1/2 cup + 2 tablespoons all-purpose flour
1/4 teaspoon baking powder
1/8 teaspoon baking soda
1/2 teaspoon kosher salt
1/2 cup semi-sweet chocolate chips
1/4 cup butterscotch chips
1/4 cup graham cracker crumbs
2 heaping tablespoons old-fashioned rolled oats
1 cup potato chips
1/2 cup mini pretzels
Combine the butter, sugars, corn syrup in the bowl of a stand mixer fitted with the paddle attachment and cream together on medium high for 2 to 3 minutes. Scrape down the sides of the bowl, add the egg and vanilla, and beat for 7 to 8 minutes (yes that long).
Reduce the speed to low and add the flour, baking powder, baking soda, and salt. Mix just until the dough comes together, no longer than 1 minute. Do not walk away from mixer or overmix. Scrape down the sides of the bowl.
Still on low speed, add the chocolate chips, butterscotch chips, graham cracker crumbs, oats, and mix until just incorporated, about 30 seconds. Add the potato chips and cereal (or other add-ins) and mix on low speed until just incorporated, taking care not to overmix or break too many of the chips or cereal pieces.
Using a 1/3 cup measure ( or 2 3/4 ounce ice cream scoop- yes this is huge) portion out the dough onto a parchment lined baking sheet. I portioned it onto a plastic-lined plate. After portioning the dough, pat the top of the cookie dough domes flat. Wrap the sheet pan (or plate) tightly in plastic wrap and refrigerate for at least 1 hour, or up to 1 week. Do not bake your cookies from room temperature – they will not bake properly. I waited 36 hours before baking.
Heat the oven to 375F. Arrange the chilled dough a minimum of 4 inches apart (basically you are baking 4 cookies to a sheet for the average home-baker) on parchment or Silpat-lined sheet pans. Bake for 16 minutes (Christina calls for 18 minutes but mine were very crispy on the edges at 16 and I wish I would have pulled them at 14-15 minutes as I prefer underbaked cookies). The cookies will puff, crackle, and spread. After 16 minutes, they should be very faintly browned on the edges yet still bright yellow in the center. Give them an extra minute or so if that's not the case. Note that because of the high butter content in these cookies, they will be prone to burning around the edges; watch them closely.
Cool the cookies completely on the sheet pans before transferring to an airtight storage container. At room temperature the cookies will keep fresh for 5 days; in the freezer, they will keep for 1 month.
Makes 8 very large cookies