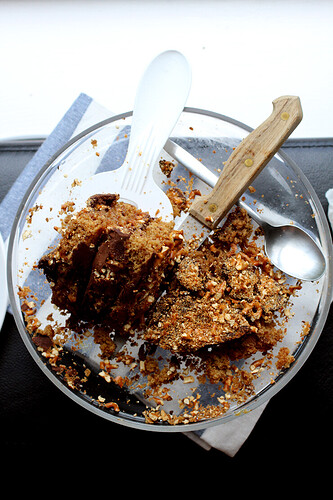 Pretzel crunch:
1/4 of a 16-oz bag pretzels (about 90 pretzels, or 2.5 cups)
2 tablespoons light brown sugar
2 tablespoons powdered nonfat milk
1/8 teaspoon table salt
2 tablespoons unsalted butter, melted
Pretzel cake:
6 tablespoons butter, at room temperature
1 cup sugar
1 tablespoon molasses
3 large eggs
1/3 cup buttermilk (I mixed 2 tablespoons of yogurt with enough almond milk to make 1/3 cup)
1/3 cup canola oil
1/2 tsp baking soda
1 1/4 tsp baking powder
½ teaspoon table salt
3/4 cup white whole wheat flour
3 cups pretzels, ground down into a powder
Stout ganache:
1 scant cup semi-sweet chocolate chips
3 tablespoons stout beer (preferably chocolate)
1 tablespoon almond milk
Burnt Honey frosting:
2.5 tablespoons honey
3 tablespoons water
4 large egg yolks
½ cup sugar
8 tablespoons butter, at room temperature
milk, optional
For assembly:
Chocolate stout beer
For the pretzel crunch:
Heat the oven to 350F degrees.
In a food processor, pulse the pretzels until they're mostly broken down into crumbs with some larger chunks. Toss the pretzel pieces in a bowl with the light brown sugar, powdered milk and salt. Add the melted butter and stir to coat.
Spread the clusters on a parchment or silpat-lined sheet pan and bake for 12-15 minutes, at which point they should look toasted and smell buttery. Cool completely before layering in cake.
For the cake:
With an electric mixer, cream together the butter, sugar and molasses. Add eggs one at a time, beating to combine after each egg. Whisk together buttermilk and oil until combined and stream into the egg mixture with the electric mixer on.
Combine all dry ingredients in a separate bowl (to prevent clumps), then add to the wet ingredients in two additions with the mixer on low. Mix until just combined, and finish off the mixing by hand with a rubber spatula until there are no streaks of dry ingredients. Be careful not to overmix at this point, or you will end up with tough, rubbery cake.
Line a 9x13" pan with well-greased parchment paper. Pour cake batter into prepared pan and tap the pan firmly on the countertop to even out the layer. Bake at 350F for 20-25 minutes. Cool the cake in the pan completely before using. (I stuck mine in the freezer while making the frostings).
For the ganache:
Add the chocolate chips, stout and milk to a small saucepan over medium low heat. Stir occasionally until melted (do not let the mixture get overcooked). If you prefer a thinner ganache, add more stout or milk to taste.
For the burnt honey frosting:
In a small saucepan, bring honey to a boil; reduce heat and simmer JUST until honey begins to smoke. Immediately remove from heat; slowly stir in 2 tablespoons water.
In the bowl of an electric mixer with whisk attachment, whisk egg yolks for 3 to 4 minutes until pale and frothy-looking—they should look like they could almost hold soft peaks.
Add sugar and remaining water to honey mixture and cook over high heat until temperature reaches 240°F on a candy thermometer (soft ball stage). I didn't have a candy thermometer, so I just watched until it looked like this: large, frothy, caramel-colored bubbles.
Whisking constantly, slowly drizzle honey mixture down the side of the bowl (the hot sugar mixture should be slowly introduced to the egg) into the egg yolks. Continue to whisk at a medium speed for about 2 minutes or until mixture is thick and cool with no trace of warmth. Whisk in butter, 2 tablespoons at a time, until incorporated.
(Note: The original recipe called for nearly a pound of butter, which would probably make this frosting easier to work with. I added 2 tablespoons, forgot about adding the rest and it turned out fine, though the frosting was difficult to work with. You can experiment with more butter if you like, or whisking in additional milk until the consistency is more drizzle-able. I would recommend adding at least half a stick of butter and a drizzle of milk. The finished cake tended to crumble when sliced, which I think could have been remedied had this frosting had been able to spread more and seal the pretzel crumbs and cake layers together.)
To assemble:
Remove the cake from pan by inverting the pan over a cutting board lined with wax paper. Cut the cake into two 6" rounds using a 6" cake ring or pan, reserving the leftover cake scraps for the bottom layer.
Clean off the cake ring and place it on a plate or cutting board lined with wax paper. Line the inside of the ring your choice of sturdy structural material (acetate, priority mail envelopes, sturdy paper, etc). Line the structural material with parchment paper or wax paper if you are not using a food-friendly material.
Line the bottom of the cake ring with the cake scraps to form the bottommost layer. Mash down the scraps with your fingers until the layer is flat. Spoon or brush 2 tablespoons of stout beer evenly across the top of the layer. Spread 1/3 of the stout ganache evenly across the cake. Reserve ½ cup of pretzel crumbs for the top of the cake, and sprinkle half of the remaining crumbs evenly across the ganache. Dollop half of the burnt honey frosting across the top.
(Note: Mine was EXTREMELY sticky and uncooperative; I found it was easiest to just drop dollops of frosting wherever I wanted them because it's not easily spreadable. It's okay if this frosting layer is spotty—this cake is not about perfection.)
Place another round of cake on top of the frosting. Repeat the soak, ganache, crumb and frosting process. Place the last round of cake down, but do not soak this layer. Spread the last 1/3 of ganache on top and end with reserved pretzel crumbs.
Freeze cake for at least three hours, or up to overnight.
Remove from cake ring, pull of plastic wrap or acetate and allow to come to room temperature—approximately 2-3 hours—before serving!