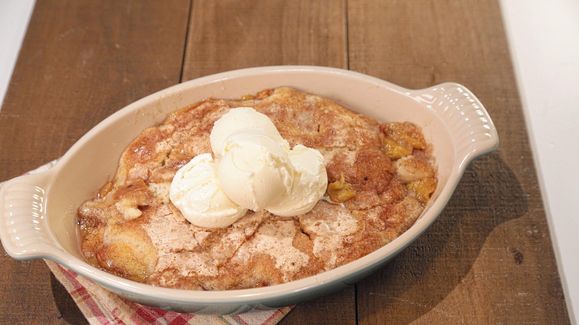 5 to 6 medium ripe peaches (peeled)
1/2 lemon (juiced)
1/3 cup sugar (plus 3/4 cup)
3 tablespoons butter (melted)
1 teaspoon baking powder
1/4 teaspoon salt
1/2 cup milk
1 cup sifted all purpose flour
For the Topping
1 tablespoon cornstarch
1 cup sugar
1/4 teaspoon cinnamon
2/3 cup boiling water
vanilla ice cream (to serve)
Preheat oven to 375ºF.
Meanwhile, preheat grill to medium-high heat. Place halved peaches on grill, cut-side-down, and cook until charred. Remove peaches to a cutting board and allow to cool slightly.
When cool enough to handle, slice grilled peaches lengthwise into 1/4-inch slices. To a large mixing bowl, add sliced peaches, 1/3 cup sugar and the juice of half a lemon. Let macerate for 30 minutes.
Arrange the peaches in the bottom of a 13 x 9-inch baking dish.
Combine the remaining 3/4 cup sugar, butter, baking powder, salt, milk, and flour in a medium bowl. Pour the batter over the peaches. To make the topping, combine the cornstarch, sugar, and cinnamon together and sprinkle over the top of the batter. It's okay if the batter doesn't cover all the fruit, it spreads during baking.
Pour the boiling water evenly over the topping. Bake for 45 minutes, or until browned and bubbly. Serve with a scoop of vanilla ice cream on the side.
Tips:
If the peaches are not ripe enough, toss one quart of peeled peach slices with the juice of half a lemon and one-third cup sugar in a large bowl and let macerate for about half an hour. Or use canned.
Martina McBride
The Chew