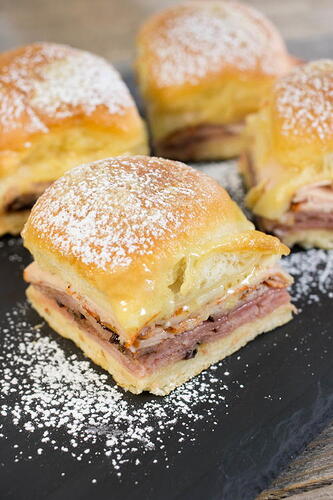 1 package 12-count King's Hawaiian Rolls
1/4 pound deli-sliced honey ham
1/4 pound deli-sliced smoked turkey
1/4 pound gruyere, sliced
1 stick butter, melted
1 egg, well beaten
3 tablespoons dijon mustard
Powdered sugar
Line a 8x8 or 9x9 square baking pan with aluminum foil and spray very lightly with cooking spray. Remove rolls from packaging without separating them and slice in half horizontally with a serrated knife. Place both bottom portions of rolls side-by-side in the bottom of a 9x9 square pan.
Layer ham, turkey and cheese evenly over rolls and then place top of rolls on cheese. Whisk together butter, egg and dijon. Pour over tops of buns.
Cover rolls with tented foil (don't let the foil touch the buns) and bake at 350 degrees F for 20 minutes. Uncover and continue to bake for 10 more minutes. Remove and let rest for another ten. Cut and dust with powdered sugar before serving!