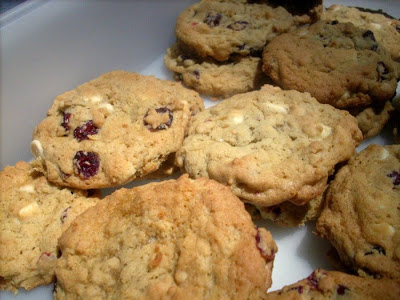 1 cup (2 sticks) butter, softened
1 1/2 cups brown sugar
1/4 cup granulated sugar
2 eggs
1/4 tsp. vanilla extract
2 3/4 cups all-purpose flour
1 cup rolled oats (not instant)
1 tsp. baking powder
1 tsp. baking soda
3/4 tsp. salt
1/4 tsp. ground cinnamon
1 1/2 cups chopped dried cranberries
1 cup chopped walnuts (I omitted these, we don't usually put nuts in our cookies)
3/4 cup white chocolate chunks (I used white baking chips)
Preheat the oven to 350 degrees.
In a large bowl, cream together the butter, sugars, eggs, and vanilla with an electric mixer on high speed.
In another bowl, mix together the flour, oats, baking powder, baking soda, salt and cinnamon.
Stir the dry ingredients into the wet stuff until blended. Stir in the cranberries, walnuts, and white chocolate.
Spoon 1/4 cup portions 2 inches apart onto a nonstick surface (parchment paper, silicone mat, or Release foil [I just greased my cookie sheet, none of that fancy stuff for me]) on baking sheets. Bake for 15 to 18 minutes, or until the edges of the cookies are just beginning to brown - the cookies will still be soft in the center. Allow the cookies to cool for at least 15 minutes before serving.