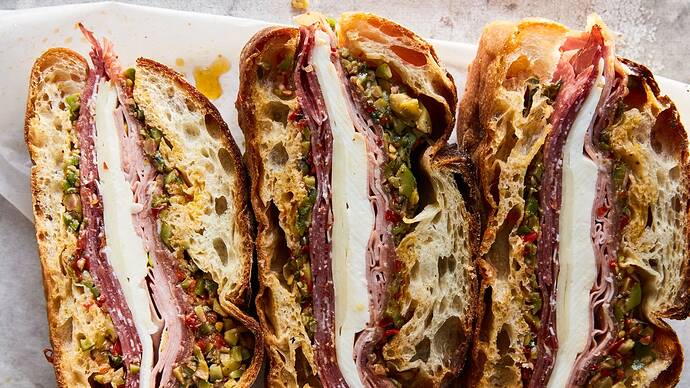 Olive Salad
5 oil-packed Calabrian chiles or 1 fresh Fresno chile, chopped
1 shallot, finely chopped
2 garlic cloves, finely chopped
1 cup Castelvetrano or green Cerignola olives, pitted, chopped
3/4 cup Picholine or Spanish olives, pitted, chopped
1/2 cup chopped drained piquillo peppers or roasted red peppers from a jar
1/3 cup olive oil
3 tablespoons chopped drained capers
3 tablespoons red wine vinegar
1 tablespoon chopped oregano
Kosher salt, freshly ground pepper
Assembly
1 large ciabatta loaf or other soft Italian bread
1/4 pound thinly sliced Genoa salami
1/4 pound thinly sliced hot capocollo
1/4 pound thinly sliced provolone cheese
1/2 pound mozzarella
1/4 pound thinly sliced mortadella
1/4 pound thinly sliced prosciutto
Olive Salad
Combine Olive Salad ingredients in a medium bowl; season with salt and pepper.
Do Ahead: Olive salad can be made 1 day ahead. Cover and chill.
Assembly
Split bread in half along the equator line.
Divide olive salad, including any liquid, between halves.
Lay salami on bottom half of bread, followed by capocollo, provolone, mozzarella, mortadella, and prosciutto.
Close sandwich and wrap tightly in plastic.
Place between 2 baking sheets and weigh down with a heavy pot or two to flatten slightly.
Let sit at room temperature, turning over halfway, 1–3 hours before cutting into wedges to serve.