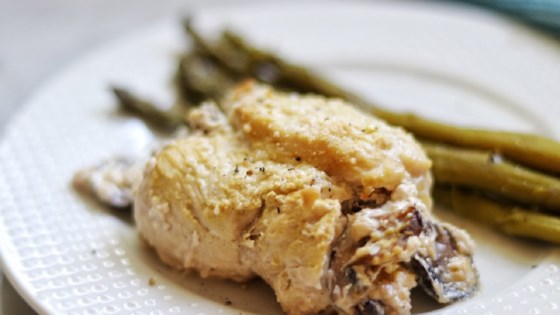 4 skinless, boneless chicken breast halves
2 tablespoons butter
1 (8 ounce) package baby portabella mushrooms, sliced
2 cloves garlic, minced
1/2 teaspoon thyme
1 (8 ounce) package cream cheese
1/4 teaspoon salt
toothpicks
2 tablespoons Dijon mustard
2 tablespoons grated Parmesan cheese, or as needed
Preheat the oven to 400.
Set an oven rack in the center of the oven.
Place chicken breasts between 2 sheets of heavy plastic on a solid, level surface.
Firmly pound with the smooth side of a meat mallet to 1/2-inch thickness.
Melt butter in a saucepan over medium heat. Add mushrooms and cook until softened, about 4 minutes.
Add garlic and thyme and cook until mushrooms are tender and most of the liquid has evaporated, 4 to 5 minutes.
Reduce heat to medium-low. Stir in cream cheese and season with salt.
Cook and stir until cream cheese has completely melted. Remove from heat.
Spoon mushroom-cream mixture onto the chicken breasts.
Wrap chicken around the mixture and secure with toothpicks.
Set chicken bundles, seam-side up, in a baking dish.
Bake in the preheated oven for 20 minutes.
Remove from oven and brush with Dijon mustard.
Sprinkle with Parmesan cheese and return to the oven.
Continue baking until no longer pink in the center and the juices run clear, 15 to 20 minutes more. An instant-read thermometer inserted into the center should read at least 165.
Discard toothpicks before serving.