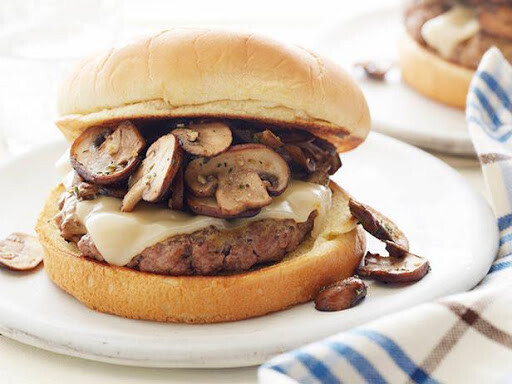 2 pounds ground beef
salt and freshly ground black pepper
1/4 cup dijon mustard
3 tablespoons soy sauce
1 teaspoon sugar
6 slices Swiss cheese
1 tablespoon olive oil
8 ounces chopped baby bella or cremini mushrooms
2 teaspoons fresh thyme leaves or 1 teaspoon dried
2 cloves garlic minced
6 buns
Preheat the grill to medium-high heat.
Form the beef into 6 burgers; sprinkle with salt and pepper. To make the glaze, mix together the mustard, soy sauce and sugar in a small bowl.
Grill the burgers until desired doneness, 4 to 5 minutes per side for medium rare, brushing the burgers with the glaze about halfway through. A minute before removing the burgers from the grill, top with the cheese.
Meanwhile, heat the oil in a large skillet over medium-high heat. Cook the mushrooms until beginning to soften, about 5 minutes. Add the thyme and garlic and cook until the mushrooms are soft, about 3 minutes more. Season with salt and pepper.
Toast the buns and serve the burgers with the mushroom topping.