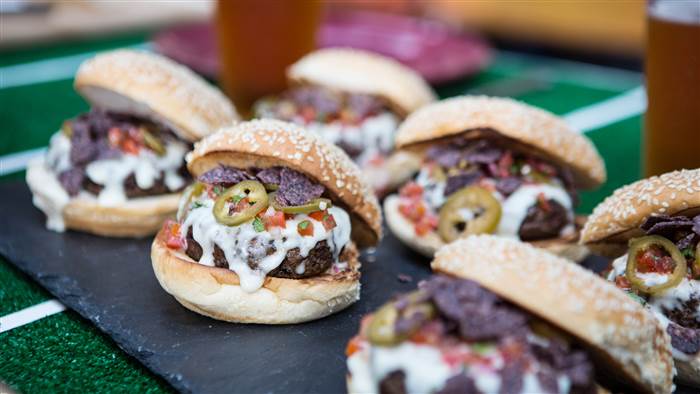 PICKLED JALAPEÑOS
20 jalapeño chiles
1½ cups red wine vinegar
1½ cups white wine vinegar
2 tablespoons kosher salt
2 tablespoons granulated sugar
1 teaspoon whole coriander seeds
1/2 teaspoon whole black peppercorns
1/2 teaspoon fennel seeds
1/2 teaspoon mustard seeds
1/2 teaspoon cumin seeds
TOMATO-CHIPOTLE SALSA
3 tablespoons red wine vinegar
1 tablespoon canola oil
1 to 2 teaspoons chipotle chile puree
3 plum tomatoes, seeded and finely diced
2 tablespoons finely diced red onion
3 tablespoons finely chopped fresh cilantro
Salt
QUESO SAUCE
1 tablespoon unsalted butter
1 tablespoon flour
1½ cups whole milk
8 ounces grated Monterey Jack cheese
2 tablespoons grated Romano cheese
Salt and freshly ground black pepper
BURGER
1½ pounds ground chuck, 80 percent lean
2 tablespoons canola oil, plus more
Salt and freshly ground black pepper
4 hamburger buns, split and lightly toasted
Queso sauce (recipe above)
Tomato-chipotle relish (recipe above)
4 pickled jalapeño chiles, thinly sliced (recipe above)
1 bag blue corn tortilla chips
For the pickled jalapeños:
Bring a medium pot of salted water to a boil. Add the jalapeños to the water and blanch for 2 minutes. Drain well; pat dry with paper towels and let cool slightly. Using a small paring knife, make a small slit in the center of each jalapeño and place in a small bowl that has a tight fitting lid.

Combine the vinegars, salt, sugar, coriander, peppercorns, fennel, mustard and cumin in a medium saucepan and bring to a simmer. Cook until the sugar and salt is dissolved. Remove from the heat and let cool to room temperature.

Pour the mixture over the jalapeños, cover and refrigerate for at least 2 hours and up to 48 hours before using. Stir several times during pickling.
For the tomato-chipotle salsa:
Stir together the vinegar, oil and chipotle puree in a medium bowl. Add the tomatoes, onion and cilantro and mix to combine; season with salt. The salsa can be made 4 hours in advance.
For the queso sauce:
Melt the butter in small saucepan over medium heat, add flour and cook for 1 minute. Slowly whisk in the milk and cook until slightly thickened, about 5 minutes. Slowly whisk in the Jack cheese until melted. Remove from heat, whisk in Romano and season with salt and pepper. Keep warm.
For the burger:
Heat a cast iron pan or griddle over high heat. Add the canola oil and heat until it shimmers.

Form meat into four 6-ounce burgers, brush with the oil and season liberally with salt and pepper on both sides. Place an indentation into the center of each burger and place, indentation-side-up in the pan and cook until the bottom is browned and a crust has formed, 4 to 5 minutes. Turn the burgers over and continue cooking to medium doneness, about 4 minutes longer.

Remove the burgers from the grill and place on the bun bottoms. Top each burger with some of the queso sauce, then tomato-chipotle relish, pickled jalapenos and blue corn chips. Top with bun tops and serve.
Notes
Swap option: Use store-bought pickled jalapeños if you're short on time.
Make an indentation in the center of each burger before cooking to stop the burger from puffing up.
Don't press on burgers; you will press all the juices out.
Bobby Flay