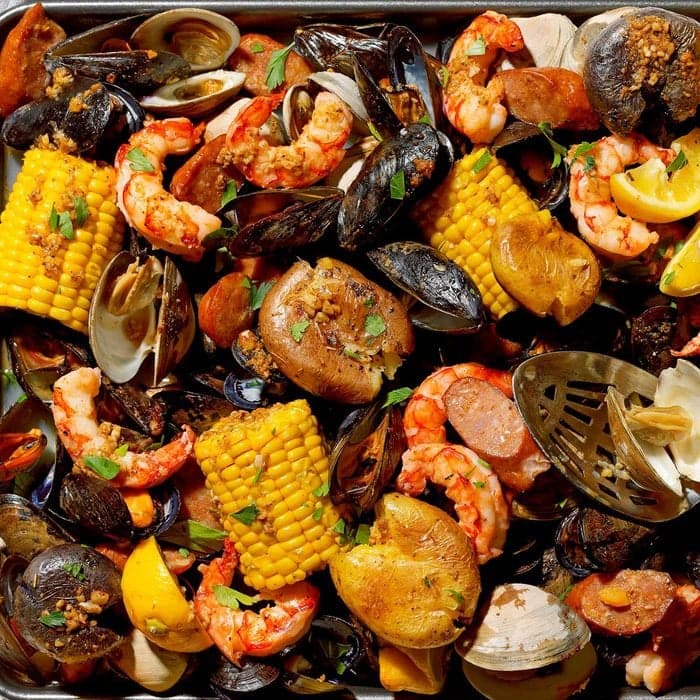 1 pound assorted baby potatoes
2 tablespoons olive oil
2 teaspoons Italian seasoning
6 half-ears frozen corn on the cob, thawed
2 pounds fresh mussels, scrubbed and beards removed
1-1/2 dozen fresh littleneck clams, scrubbed
1 pound uncooked shrimp (26-30 per pound), peeled and deveined
1/2 pound fully cooked Spanish chorizo links, cut into 1/2-inch pieces
1/4 cup dry white wine or chicken broth
1 medium lemon, cut into wedges
1/2 cup butter, melted
4 garlic cloves, chopped
2 teaspoons seafood seasoning
1-1/4 teaspoons Cajun seasoning
1/4 teaspoon pepper
2 tablespoons minced fresh parsley
Preheat oven to 400°. Place potatoes in a 15x10x1-in. baking pan. Drizzle with oil and sprinkle with Italian seasoning; toss to coat. Bake until tender, 25-30 minutes. Using a potato masher, flatten potatoes to 1/2-in. thickness; remove and keep warm.
Add corn, mussels, clams, shrimp and chorizo to same pan; top with potatoes. Pour wine into pan. Squeeze lemon wedges over top; add to pan.
Combine butter, garlic, seafood seasoning and Cajun seasoning. Pour half the butter mixture over top. Bake until shrimp turn pink and mussels and clams open, 20-25 minutes. Discard any unopened mussels or clams.
Drizzle with remaining butter mixture. Sprinkle with pepper; top with parsley.