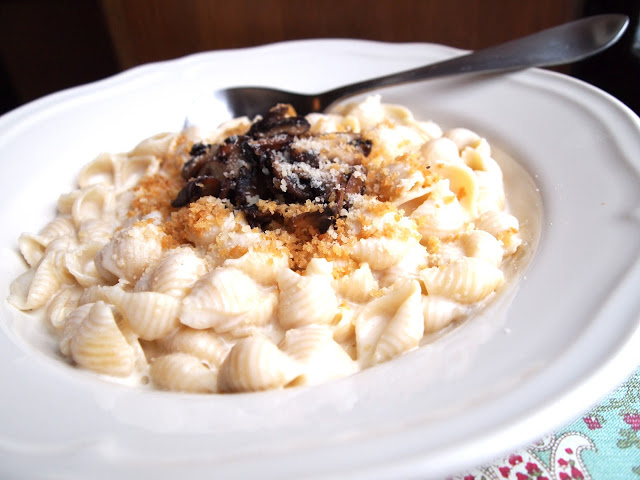 1 lb. elbow macaroni
1/4 c. + 2 Tbsp. butter, divided
1/4 c. flour
2 1/2 c. milk
1/4 c. cream
1 c. shredded cheddar-jack cheese blend
1/4 c. grated parmesan cheese, plus more for garnish
3/4 tsp. - 1 tsp. white truffle oil
salt and pepper to taste
2 c. sliced crimini mushrooms
1 c. panko breadcrumbs
fresh parsley, finely chopped
Cook pasta according to package directions, drain well.
In a large saucepan, melt 1/4 c. butter over medium heat. Add flour and stir to combine well. Let cook and bubble 1 minute or so, or until mixture smells toasty. Add a pinch of salt and a dash of pepper. (A quick note about roux-making: I like to start with a wooden spoon, then switch to a whisk when I add liquid.) Whisk vigorously as you add the milk. Turn heat up to medium-high, and cook, stirring frequently, until just thick enough to lightly coat the back of a spoon. (I mean it. Don't let it thicken too much.) Add more milk if it gets too thick.
While this is happening, sautee mushrooms in 1 Tbsp. of butter (or oil, if you like), and likewise toast the breadcrumbs over low heat, in 1 Tbsp. of melted butter, until golden. Set aside.
Remove sauce mixture from heat and add cheeses, cream, and truffle oil. Stir until cheese is melted and incorporated. Taste and add salt and pepper as desired.
When ready to serve, ladle some sauce in the bottom of your bowl. Spoon in pasta, then top with more sauce, mushrooms, breadcrumbs, parsley, and more parmesan. Drizzle a little more truffle oil on each serving if you like.