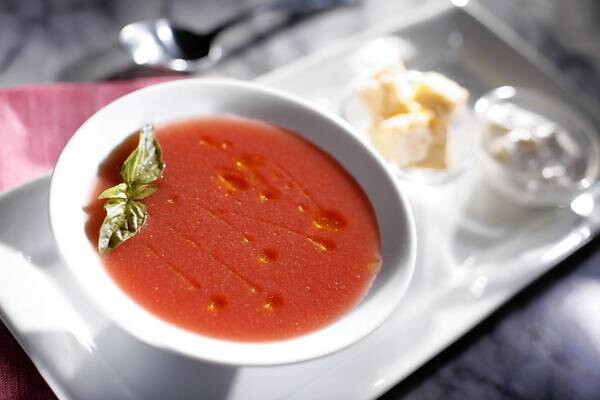 2 pounds vine-ripened tomatoes
Salt and black pepper
4 to 6 tablespoons olive oil
Fresh basil leaves, for garnish
2 to 3 dozen croutons, for garnish
4 to 6 tablespoons stracciatella di burrata or burrata cheese, for garnish
Cut the tomatoes into large pieces. Puree the tomatoes in a blender or in a bowl using a hand blender until smooth and creamy. Strain to remove the seeds, if desired. Season to taste with salt and pepper (seasoning will vary depending on type and ripeness of the tomatoes).
Chill the puree over an ice bath or refrigerate just until cold. Pour into individual bowls, drizzling over a little olive oil and garnishing with fresh basil leaves. Finish each with 5 to 6 croutons and a tablespoon of stracciatella di burrata.