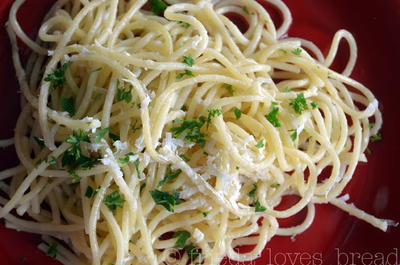 1 cup butter
1 cup Myzithra cheese, shredded
pasta of choice 16 oz
2 T. parsley, chopped
Salt to taste
Optional:
2 t. minced garlic, sautéed mushrooms, bacon, pine nuts, black pepper
Cut butter into small pieces and place in a 2-quart saucepan. Put on medium heat. Bring to a slow boil (about 5 minutes).
Once at a boil, stir constantly to prevent re sticking. Butter will start to foam and rise. Continue stirring, about 5 minutes.
Once the butter stops foaming, cook until amber brown (about 1 to 2 minutes). It will smell like caramel. Be careful to not let it burn.
Remove pan from burner. Let the sediment settle to the bottom of the pan for a few minutes.
Pour the browned butter through a strainer into a small bowl. Do not disturb the residue at the bottom of the pan.*
Store butter in the fridge and reheat in a microwave as needed.
Boil the pasta of choice until Al Dente. Drain pasta and divide into four servings. Spread 1/4 cup of Myzithra over each pasta serving. Top with 1/4 cup of hot brown butter.
*the brown residue in the bottom of the pan is very salty.
serves 4