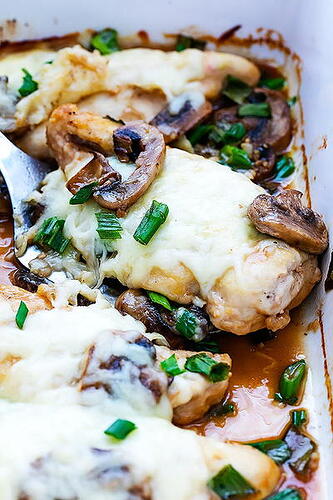 4 boneless skinless chicken breasts
2 eggs (lightly beaten)
1 cup all-purpose flour
½ teaspoon salt
pinch of black pepper
2 cups dried breadcrumbs
4 tablespoons of oil
½ cup shredded smoked mozzarella cheese
½ cup shredded provolone cheese
4 pieces of bacon, cooking until crispy and crumbled
1 cup prepared alfredo sauce
1 tablespoon minced fresh parsley
Place the flour, salt and a pinch of black pepper into a shallow dish. In another shallow dish add the beaten egg. In yet another shallow dish add the breadcrumbs. Dip each chicken breast in the flour until evenly coated, then dip in the egg and then roll in breadcrumbs. Repeat until all of the chicken breasts are coated.
In a small saucepan heat the alfredo sauce until heated through.
Preheat the oven to 350 degrees F. Heat oil in a large skillet over medium-high heat. Add the chicken breasts and fry until golden on both sides. Remove from the pan and place on a baking sheet.
Place into the oven and bake for 25-30 minutes or until the chicken is fully cooked, the internal temperature has reached 165 degrees F. During the last few minutes of cooking top each chicken breasts with some of the mozzarella and provolone cheeses. Bake until the cheese has melted. Remove from the oven and place the chicken onto individual plates. Spoon about 1/4 cup of the heated Alfredo sauce over each chicken breast, top with some crumbled bacon and minced parsley.