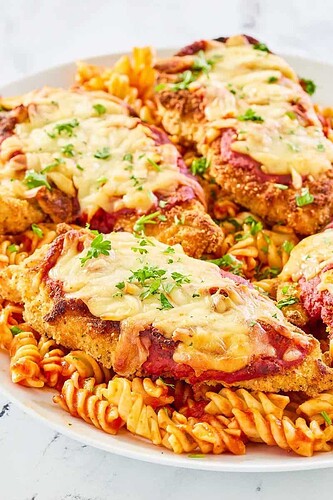 3 cups marinara sauce
1 pound boneless skinless chicken breasts
½ teaspoon salt
¼ teaspoon ground black pepper
½ cup all-purpose flour
2 large eggs
2 tablespoons water
1½ cups Italian bread crumbs
¾ cup grated Parmesan cheese I recommend canned Parmesan cheese, like Kraft
oil for frying
1 cup shredded mozzarella cheese
¼ cup Parmesan cheese for garnish
Heat marinara sauce in a pot on low on your stove.
Slice chicken breasts in half horizontally.
Next, you will gently pound the chicken breasts into cutlets.
Place a chicken breast between two sheets of plastic wrap, and use a meat mallet to gently pound the chicken breast until it is about ¼ inch thick. Do this for all chicken breasts.
Season chicken breasts with salt and ground black pepper on both sides.
Preheat the oven to 350 degrees.
Prepare a dredging station. You will need three shallow bowls or pie plates.
Place flour in the first bowl.
In the second bowl, add eggs and water, and beat to combine into a uniform mixture.
In the third bowl, add Italian bread crumbs and parmesan cheese. Stir to combine so you have a uniform mixture.
Then set up a wire rack on top of a baking sheet.
First, dredge a chicken cutlet in the flour, and shake off excess flour.
Place the floured chicken into the egg mixture, coat both sides, and then shake off the excess egg.
Finally, dredge the chicken into the breadcrumb and Parmesan cheese mixture. Coat well on both sides, then place the breaded chicken cutlet onto a wire rack.
Bread all chicken cutlets.
Pour enough oil into a large skillet to cover the bottom of the pan by ½ inch. Heat the oil to 350 degrees.
Cook the chicken for 3 to 4 minutes on each side or until the breading is golden brown. The chicken is cooked through when it has reached an internal temperature of 165 degrees.
Remove the cooked chicken from the oil, and drain off any excess oil from the chicken.
Place the cooked Parmesan chicken into a baking dish. Top with marinara sauce, and then top with mozzarella.
Bake for 5 to 10 minutes or until the cheese melts.
Garnish with chopped parsley and serve.