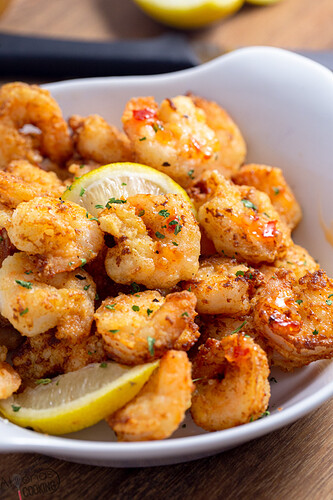 1 pound shelled, deveined shrimp
2 cups cornstarch
1/2 cup dry white wine
1 cup unsalted butter cut into tablespoon-sized pieces
1/2 cup white wine vinegar
2 tablespoons finely chopped white onion
1/3 cup heavy cream
1/4 teaspoon salt
1/8 teaspoon ground white pepper
1 lemon slice, you will use 5 to 6 slices
1/2 teaspoon fresh parsley dry is ok
1 tablespoon freshly squeezed lemon juice
vegetable oil for frying
Shrimp
Fill a large pan with 3 to 4 inches of vegetable oil Heat the oil to 350 degrees.
Dredge the shrimp in the cornstarch, shake off the excess.
Fry the shrimp in small batches for 2 to 3 minutes, or until golden brown. Drain on a wire rack until ready to use.
Sauce
In a heavy-bottomed skillet, heat together the wine, vinegar, and choppedonion over medium heatuntil the liquid is reduced to about 1 tablespoon.
Add in the small cubes of butter and stir until it is melted. Add in the heavy cream, salt, white pepper, lemon slices, parsley, and lemon juice. Stir to comobine.
Place the cooked shrimp on a serving plate and drizzle with white wine sauce.