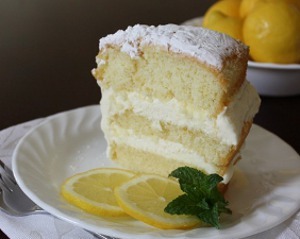 1¾ c. cake flour
1 Tablespoon baking powder
1 tsp. salt
½ c. sugar.
½ c. vegetable oil
6 egg yolks
¾ c. water
1 Tablespoon lemon zest
½ tsp. cream of tartar
¾ c. sugar
6 egg whites
1 c. heavy cream
8 oz. cream cheese
2½ c. powdered sugar
3 T lemon juice.
Lemon Sponge Cake: The first step should be to make the meringue which gets folded into the cake batter.
Separate 6 eggs. Reserve the yolks for a later step.
Place 6 egg whites into a large bowl and start beating on high with an electric mixer.
SLOWLY sprinkle in ½ teaspoon cream of tartar, and ¾ cup sugar, adding the sugar a bit at a time.
Whip the egg white mixture until stiff peaks form.
In a bowl combine these dry ingredients- 1¾ cup cake flour, 1 tablespoon baking powder, 1 tsp. salt, ½ cup sugar.
In a separate bowl combine these wet ingredients- ½ cup vegetable oil, 6 egg yolks, ¾ cup water, 1 tablespoon lemon zest.
With an electric mixer, combine the wet and dry ingredients then gently fold in the meringue.
Pour batter into a non-greased 10" tube pan and bake at 350 degrees for 1 hour. Upon removing from oven, immediately flip the tube pan upside down to rest and cool on the pan's feet or onto a bottle neck if your pan doesn't have feet.
Allow to completely cool.
Run a knife around the edges before removing from pan. Slice cake horizontally into 3 even layers with dental floss or a very long serrated knife.
Lemon Cream Filling: One cup heavy cream, whipped, 8oz. softened cream cheese, 2½ cups powdered sugar, 3 tablespoons lemon juice.
With an electric mixer, whip the cream cheese, powdered sugar and lemon juice until well combined then fold in the whipped cream.
Chill for ½ hour, then frost the bottom layer with ½ of the lemon filling, place on middle cake layer and frost with the rest of the filling.
Place last cake layer on top and chill cake.
Dust cake top with powdered sugar right before serving.