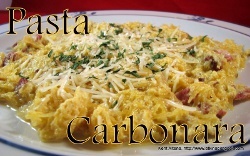 1 spaghetti squash
8 bacon slices
1/2 small onion, diced
2 garlic cloves
4 eggs, beaten
1/2 cup Parmesan cheese, grated
1/4 cup heavy cream
1/4 cup water, as needed
1/8 teaspoon black pepper
1/8 teaspoon salt
1/8 teaspoon parsley
1/4 cup white wine (optional)
Quarter one spaghetti squash. In a large pot of boiling salted water, place spaghetti squash for 20 to 30 minutes until the stringy inside easily flakes out.
In a large frying pan, cook bacon until crispy and set aside. Remove all but 2 tablespoons of bacon fat from pan. Cook onions until translucent. Add garlic, and cook one more minute. Add white wine if desired, and reduce to desired consistency.
Add chopped bacon and spaghetti squash back to frying pan. Add beaten eggs, continuously stirring until beginning to set. Add cheese, cream, and water. Stir into well incorporated and "spaghetti" are covered.
Serve with parsley and Parmesan cheese.