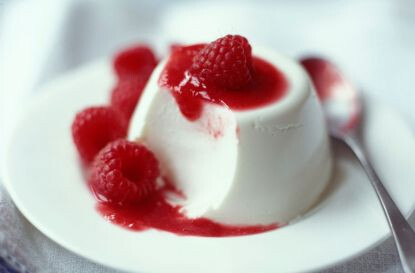 Total Time: 45 min
chill: 8 hrs(s)
prep: 15 min(s)
cook: 30 min(s)
Serves 4
1 1/2 qt Heavy Cream
1/2 qt Half and Half
1 cup(s) Sour Cream
3/4 cup(s) Sugar
pinch Salt
2 Tbsp Vanilla Extract
1 envelope Knox Gelatin
8 oz Fresh Raspberries
1/3 cup(s) Powdered Sugar
To a glass bowl add heavy cream, half and half, sugar, salt and vanilla. Mix well.
Over double boiler heat until it registers 180 degrees on a thermometer.
Remove from heat and blend in the sour cream.
In a little hot water, dissolve the gelatin and add to the cream. Mix well.
Portion into small glass containers or ramequins and overwrap with saran wrap.
Cool in refrigerator until cold preferably overnight.
To a blender, add the raspberries and blend on high speed until nice and smooth.
Strain to reove all the seeds.
Add powdered sugar and mix well.
Cool overnight.
Source: Olive Garden website, Italian Recipe Box page, 2002.