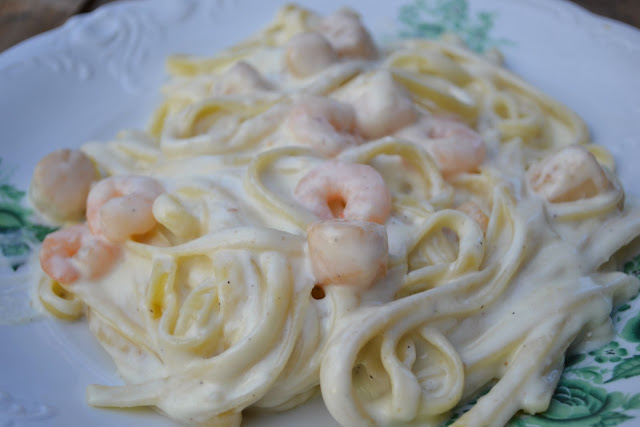 16oz fettuccine noodles
1 pound scallops
1 pound small shrimp, deveined – shells & tails removed
1 stick butter
4 tablespoons olive oil
5 garlic cloves, minced
4 cups heavy cream
¼ teaspoon black pepper
1.5 cups shredded Parmesan cheese
1¾ cups shredded Mozzarella cheese
Preheat a skillet on medium-high heat. Add 2 tablespoons olive oil and saute the scallops for about 6 minutes. Stir in the shrimp & cook for an additional 4-5 minutes, or until done. Remove from the pan & set aside.
Melt the butter in a large saucepan with the remaining 2 tablespoons of olive oil over medium heat. Add the garlic, cream, & pepper. Cook for about 5 minutes, whisking often.
Add the Parmesan cheese and cook the sauce on medium heat for 10-15 minutes, or until the sauce has thickened and is smooth. Make sure you give it a good whisk every couple of minutes!
Add the mozzarella cheese and stir until smooth, continuing to stir frequently.
While the sauce cooks, boil the fettuccine noodles according to package directions. Place the pasta on serving plates, and top with the Alfredo sauce and seafood OR just combine it all together in a large pot.
Note
This does make a little bit more sauce than you need. I did this on purpose because I like to put a little in a small bowl to dip my breadsticks in.