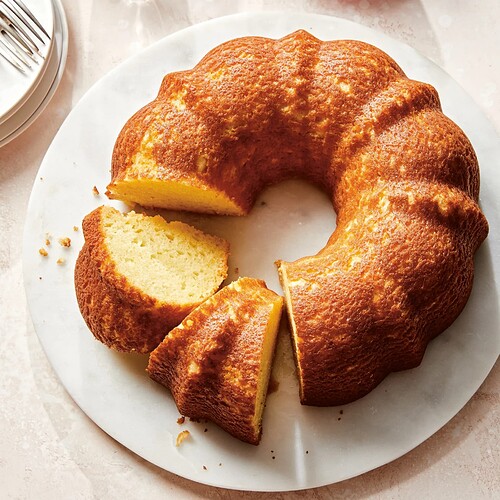 Unsalted butter, shortening, or nonstick cooking spray, for the pan
1½ cups (300 grams) sugar, plus more for the pan if using a Bundt pan
3 large eggs, at room temperature
1 cup (250 grams) whole-milk ricotta cheese, at room temperature
½ cup (123 grams) sour cream or plain whole-milk yogurt, at room temperature
¾ cup (97 grams) extra-virgin olive oil
1 Tbsp. vanilla extract
2½ tsp. (10 grams) baking powder
1 tsp. (5 grams) fine sea salt
1 tsp. finely grated orange or lemon zest
1½ cups (192 grams) all-purpose flour
Heat the oven to 350ºF. Lightly grease a 9×5" loaf pan or a 10–12-cup Bundt pan (or spray with nonstick cooking spray). If using a loaf pan, line it with parchment paper, leaving about 2" of excess on each side to help you lift the cake out of the pan. If using a Bundt, sprinkle the inside of the pan with sugar, including the center cone.
In a large bowl, whisk together the eggs, ricotta, and sour cream until combined. Add the oil and vanilla and mix until well blended. Whisk in the sugar, baking powder, salt, and zest until well combined. Using a rubber spatula, fold in the flour until just incorporated.
Scrape the batter into the prepared pan and smooth the top with the spatula. Bake until the cake is golden brown and a toothpick inserted into the center comes out clean, 50–65 minutes for the loaf pan, 40–55 minutes for the Bundt, rotating the pan halfway through baking.
Transfer to a wire rack and let the cake cool in the pan for at least 1 hour before unmolding and slicing.