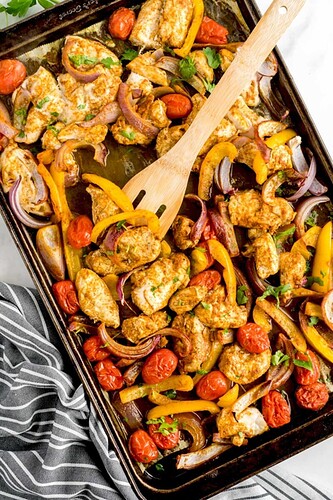 4 tablespoons olive oil
1 tablespoon water
1 tablespoon lemon juice, freshly squeezed
2 teaspoons ground cumin
2 teaspoons paprika
1 teaspoon allspice
1/2 teaspoon garlic powder
1/4 teaspoon turmeric
1 teaspoons salt
Pinch of ground cinnamon, cayenne pepper and black pepper
1 1/2 pounds boneless and skinless chicken breast, cut into 1-inch pieces or boneless and skinless chicken thighs
1 large red onion, sliced
1 large yellow bell pepper, sliced
1 pint cherry tomatoes
Chopped parsley for garnish (optional)
Preheat the oven to 375 degrees Fahrenheit.
In a small bowl, mix the olive oil, water, lemon juice, cumin, paprika, allspice, garlic powder, turmeric, salt, cinnamon, cayenne and black pepper.
On a sheet pan lined with aluminum foil or parchment paper, place the chicken, onion, bell pepper and cherry tomatoes.
Drizzle the chicken and vegetables with the spice mixture and toss well to combine.
Bake for 15 to 20 minutes or until the chicken is cooked through and no longer pink. Remove from the oven. Garnish with chopped parsley (optional) and serve.