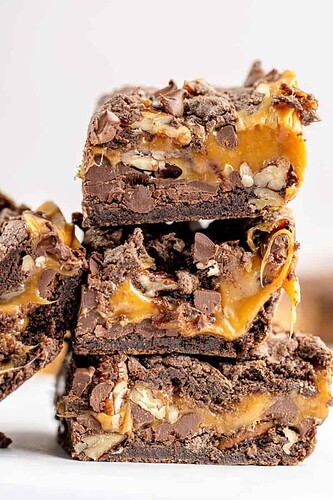 1 box German Chocolate Cake Mix
2/3 cup Evaporated milk (you'll use 1/3 C at a time)
3/4 Cup melted butter
4 oz bag of caramels
2 cups of chopped nuts (another 1/2 cup for the top if desired)
12 oz of chocolate chips
Grease and flour 13x9 pan. Preheat oven to 350.
Melt the caramels with 1/3 Cup of evaporated milk. Set aside to cool. Mix
cake mix with 1/3 Cup of evaporated milk and the melted butter.
Mix in the nuts.
Spread half of the cake mix/nuts batter to cover the bottom of the pan.
Bake for 6 minutes. Take out and sprinkle chocolate chips over the top;
drizzle caramel over chocolate chips. Spread the remaining batter to cover
the top. You can sprinkle more nuts on top if desired. It won't be perfect!
Bake for another 22 to 24 min. or so…until they look done…They'll still be
jiggly in the center.
Refrigerate for awhile before cutting, at least 6 hours.