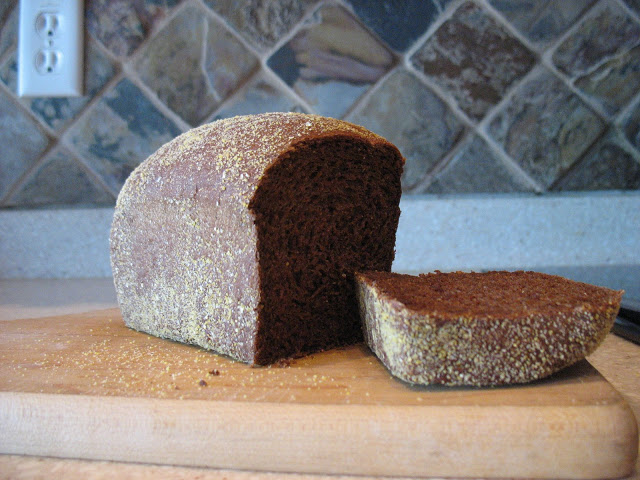 2 1/2 c. room temperature water (100°-110°F)
4 T. butter, margarine or vegetable oil
2 T. caramel color
1/2 c. honey
3 1/2 c. wheat flour
3-4 c. all purpose flour
2 T. cocoa
2 T. active dry yeast
2 T. vital wheat gluten
2 t. salt
cornmeal
Combine first 4 ingredients (water, oil, color, honey) and mix well. Pour wheat flour on top of wet ingredients. Add cocoa, yeast, gluten and salt. Stir until well blended. Allow mixture to sponge for 10 minutes.
Add all purpose flour, one cup at a time, until dough clings to hook and almost cleans the sides of mixer, about 3-4 minutes.
Allow to raise in the bowl, covered with plastic wrap, until doubled, about 20-30 minutes.
Divide into 8 piles, cover with plastic wrap and allow to rest for 5 minutes. Shape into loaves and roll in cornmeal. Place on greased cookie sheet or greased 2.5x5 mini loaf pans.
Allow to rise till double, about 20 minutes.
Bake at 350 degrees for 20-25 minutes.
Note
This recipe makes 3 medium 8"x4" loaves: bake @ 350°F for 30-35 minutes (or)
2 large 9"x5" loaves: bake @ 350° for 35-40 minutes.