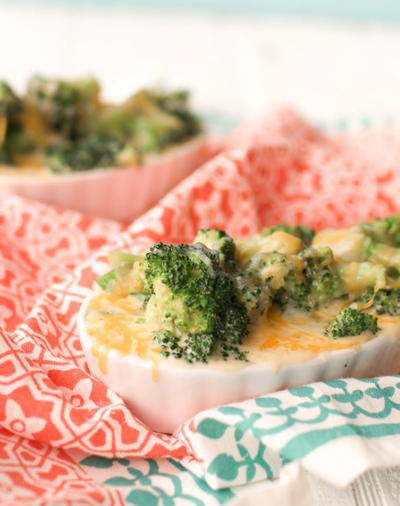 1 head broccoli, cleaned and chopped into florets
2 tbsp butter
2 tbsp flour
1 cup whipping cream
1/2 cup milk
8 ounces velveeta cheese, cubed
1/4 tsp salt
1/4 tsp pepper
1/2 tsp paprika
1/4 tsp ground red pepper
1/2 tsp garlic powder
1/4 tsp onion powder
shredded cheddar cheese
In a saucepan melt butter.
Add flour and whisk until combined. Cook until fragrant.
Add whipping cream and milk, continue to whisk until thickened.
Add velveeta cheese and spices, whisk until cheese is melted.
Meanwhile blanch your broccoli and drain.
Pour cheese sauce over broccoli
Transfer broccoli to small oven safe dishes. Top with shredded cheese.
Bake in a 400 degree oven for 3-4 minutes until cheese is melted and bubbly.
Serve immediately.