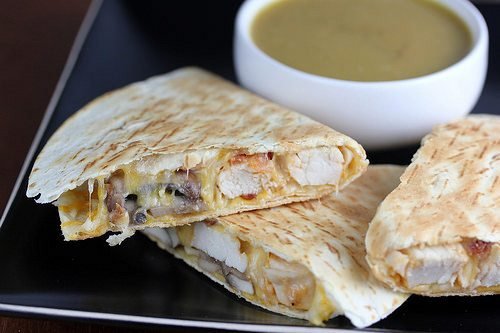 2 tablespoons mayonnaise
1 tablespoon prepared mustard
2 teaspoons honey
4 ounces grilled chicken breast
2 teaspoons butter, plus 1/2 teaspoon for the grill (or use nonstick spray)
2 ounces sliced baby portabella mushrooms
1/2 teaspoon garlic salt
1/4 teaspoon chopped fresh parsley, plus more for optional garnish
4 (10-inch) flour tortillas
3 ounces shredded Colby-Jack cheese mix
4 slices bacon, cooked crisp
Prepare the honey mustard by combining the mayonnaise, mustard, and honey in a small bowl.
Mix well and set aside. Slice the chicken breast on the diagonal into short slices about 1/4 inch thick; set aside.
Use nonstick spray or about 1/2 teaspoon butter to coat the surface of a skillet or grill, heat it to approximately 350 degrees.
Saute the mushrooms over medium-high in a skill with 2 teaspoons butter, garlic salt, and parsley.
Cook the mushrooms quickly you want them to brown on the outside.
They will take 2 minutes to cook. Transfer to a bowl.
Sprinkle half the cheese on a tortilla. Add half the mushrooms, chicken, and bacon.
Top with another tortilla.
cook for 2 to 3 minutes in the same skillet that the mushrooms were cooked in, flip very carefully.
Cook for another 2 to 3 minutes. Repeat with remaining 2 tortillas.
Use a pizza cutter to cut each quesadilla into quarters.
Serve with honey mustard or your favorite pico de gallo.
To add flair, sprinkle a little fresh parsley on the finished dish, if desired.