P.F.Chang's Chicken Chow Fun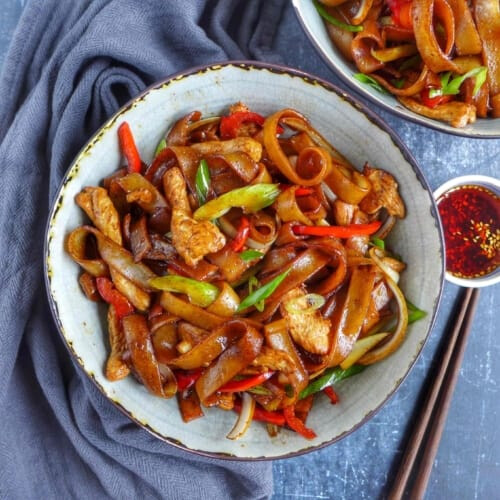 4 ounces ground chicken (cooked)
14 ounces chow fun noodles
2 tablespoons minced scallions
1 teaspoon minced garlic
1 teaspoon chili paste
1 teaspoon szechwan preserved vegetables
2 tablespoons shredded black fungus mushrooms
SAUCE
2 tablespoons soy sauce
2 tablespoons vinegar
2 tablespoons sugar
1 teaspoon oyster sauce
1 teaspoon mushroom soy sauce
2 tablespoons water
cilantro garnish
Separate the chow fun noodles and cover them with plastic wrap until ready
for service.
Heat wok and add 2 teaspoons vegetable oil. Stir-fry garlic and chili paste
for 5 to 7 seconds.
Add the cooked ground chicken and sear it in the wok with garlic and chili
paste. Add black fungus mushrooms and sauce & stir-fry together briefly.
Separate the noodles and drop them into the wok while you are mixing, a
handful at a time. Continue cooking until the noodles have absorbed all the
flavors and are hot.
Finish the dish with sesame oil and serve in bowls or plates.
Garnish with Szechuan preserved vegetables, minced scallions, and cilantro.